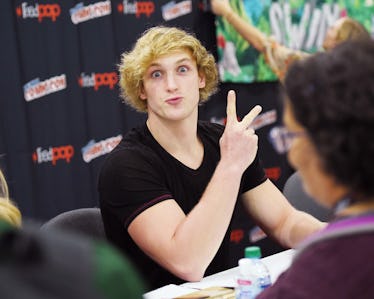 Logan Paul Is Under Fire For Yet Another Controversial Video & It's Disturbing
Nicholas Hunt/Getty Images Entertainment/Getty Images
YouTube sensation Logan Paul is continuing to prove that his disturbing antics are far from over. Earlier this week, in a video posted to his channel, Paul did the unthinkable in a stunt involving himself and a dead rat, and it's totally backfiring. If you thought the last video to go viral was bad, wait until you hear about Logan Paul's rat tasering video.
On Feb. 5, the 22-year-old uploaded a video that shows him tasering two dead rats on the outside deck of his home in Encino, California during a game he called "Get These Rats," according to Us Weekly. He reportedly pulled out a taser from his pants and yelled, "No rat comes into my house without getting tased!" Later, after he and his friends tossed the carcass in a garbage bin, Paul zapped the rat one last time. A girl in the video then asked why he did that, and Paul simply answered, "I hate rats."
Also, in earlier moments of the video, Paul is shown scooping a fish out of a pond at his home, which he said was "still breathing." However, instead of putting it back, Paul laid it on the ground and began to poke it. Paul can be heard asking, "What do I do? CPR?" to which his friend responded, "No, put him back in the water," according to the publication.
Social media users immediately criticized Paul's actions.
But some people said it wasn't that serious.
Still, the stunt is pretty messed up considering the backlash he just received over another video.
Last month, Paul received extreme backlash after he posted a video to his YouTube page that showed an apparent dead body hanging in Japan's Aokigahara forest, which is a well-known suicide site. The video, which showed Paul and his friends laughing after they'd stumbled across the body of a man who'd apparently committed suicide, has since been deleted from his page.
On Jan. 1, he took to his Twitter page to apologize for the stunt, claiming that he was trying to bring awareness to suicide and suicide prevention rather than posting it with malicious intentions. He wrote,
This is a first for me. I've never faced criticism like this before, because I've never made a mistake like this before. I'm surrounded by good people and believe I make good decisions, but I'm still a human being. I can be wrong. I didn't do it for views. I get views. I did it because I thought I could make a positive ripple on the internet, not cause a monsoon of negativity. That's never the intention. I intended to raise awareness for suicide and suicide prevention and while I thought 'if this video saves just ONE life, it'll be worth it,' I was misguided by shock and awe, as portrayed in the video. I still am.
In a video tweeted on Jan. 2, two days after uploading the video, Paul apologized a second time for the disturbing post. He said,
I've made a severe and continuous lapse in my judgment, and I don't expect to be forgiven. I'm simply here to apologize. What we came across that day in the woods was obviously unplanned, and the reactions you saw on tape were raw. They were unfiltered. None of us knew how to react or how to feel. I should have never posted the video. I should have put the cameras down.
The next day, on Jan. 3, Paul announced he was planning on taking a hiatus via his Twitter page, saying he was "taking time to reflect" — which totally made sense with all the ad deals and partnerships he lost from the stunt. But Paul was back posting just three weeks later, and the rat tasering video is his third post since his hiatus ended.
Maybe Paul just hasn't learned his lesson, or perhaps, he thrives off controversy. But in sensitive situations like this, it never hurts to ask yourself, what would PETA do?