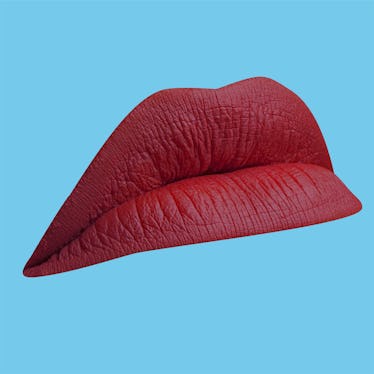 Lipslut's New Charitable Lipstick Targets Brett Kavanaugh & Supports Victims Of Sexual Assault
Courtesy of Lipslut
If you were anything like me during the Brett Kavanaugh and Christine Blasey Ford hearings last week, you were either crying at your desk or throwing things across the room in anger. Thankfully, there's an alternative option when it comes to releasing frustration over the madness — Lipslut's F*ck Kavanaugh Lipstick. Purchasing this new aesthetic offering actually helps make a difference for sexual assault victims.
Here's a brief breakdown of what's been happening in the Senate over the last week, in case you've been living under a rock. Last Thursday, research psychologist and professor Christine Blasey Ford accused Supreme Court nominee Brett Kavanaugh of allegedly sexually assaulting her at a party when they were in high school. Dr. Ford claims she is 100 percent sure that it was Kavanaugh who allegedly assaulted her, meanwhile Kavanaugh claims he's 100 percent sure it wasn't him and has denied all of the allegations against him. While Democratic senators shared their praise and admiration for her courage during the hearings, some Republican senators were pretty outraged over the hearings (looking at you, Senator Graham). It was Senator Flake, a Republican from Arizona, who surprised everyone with this vote to allow the FBI to further investigate the case. (On Thursday, October 4, the FBI concluded its Kavanaugh investigation.)
Unlike Kavanaugh during the hearings, Dr. Ford was incredibly calm and composed (and a bit teary-eyed) when asked tough questions about her alleged sexual assault as a 15 year old. Lipslut's newest shade, F*ck Kavanaugh ($20, lipslut.com) was inspired by Dr. Ford's demeanor during the hearings, the matte liquid lipstick described as a, "cool, calm, and collected red" on their site — a red shade that actually resembles Kavanaugh's enraged face as he defended himself throughout the hearing.
The social justice beauty brand first made major headlines with the release of its F*ck Trump ($20, lipslut.com) lip shade in July, when all eyes were on Trump for his zero-tolerance immigration policy. Described as a "balanced, mid-tone nude pink" on their site, the F*ck Trump shade donated 100 percent of all earnings from the lipstick to help "a civil rights organization targeted by the Trump administration." The brand allowed each customer to choose from a list of organizations to donate to at checkout.
Now, Lipslut is donating 100 percent of proceeds from their F*ck Kavanaugh lipstick sales to anti-sexual assault organizations, including RAINN, NO MORE, National Alliance to End Sexual Violence, and End the Backlog. The fundraiser will run from Monday, October 1 through Sunday, October 7, and once it's done, they'll donate 50 percent of the proceeds to the same organizations. Intensely pigmented and long-wearing, the lipstick is made with coconut oil and vitamin E for moisturized lips that won't crack.
"100% towards charity, 100% against assault," the F*ck Kavanaugh shade is currently in pre-ordering stage, where shipping will begin 6-8 weeks as of October 1. As we wait to hear the fate of Kavanaugh's nomination after the FBI investigation this week, now is the perfect time to throw some shade and support survivors of sexual assault, by purchasing a product that could possibly help thousands of sexual assault victims nationwide. Support Dr. Ford's bravery and courage to stand up for millions of women (and men!) across the country who face sexual assault too-often to be ignored.