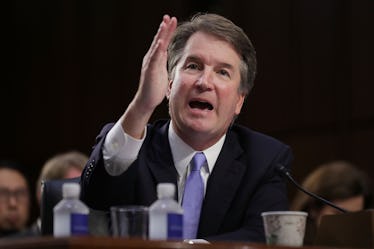 Senators Have Brought In A Female Prosecutor To Interview Christine Blasey Ford
Chip Somodevilla/Getty Images News/Getty Images
As confirmation hearings for Supreme Court nominee Brett Kavanaugh continue, more eyes are increasingly looking at Christine Blasey Ford, a California professor who accused the judge of sexually assaulting her years ago. Kavanaugh has vehemently denied the allegations. Elite Daily reached out to representatives of Kavanaugh for further comment, but did not hear back. Ford is set to testify before the Senate Judiciary Committee later this week, which could potentially endanger his nomination. So, who will interview Christine Blasey Ford at the Senate? She's reportedly an Arizona prosecutor who specializes in sex crimes.
On Wednesday, Sept. 26, The New York Times reported that the Senate Judiciary Committee's Republican leadership said Rachel Mitchell will be questioning Ford in a hearing scheduled for Thursday, Sept. 27. In a statement announcing the selection of Mitchell, Iowa Sen. Charles E. Grassley, the chairman of the judiciary committee, called her a "career prosecutor with decades of experience prosecuting sex crimes."
"I'm very appreciative that Rachel Mitchell has stepped forward to serve in this important and serious role," Grassley explained. "Ms. Mitchell has been recognized in the legal community for her experience and objectivity."
GOP members appear to be wary of the optics of Ford being questioned by 11 male Republican senators, as the matter has drawn comparisons to the 1991 Anita Hill hearings, when every member of the judiciary committee was male. Mitchell appears to be a solution to this — even though Ford had hoped to have the senators question her instead of a lawyer, per the Times.
According to Grassley's statement, Mitchell has been a prosecutor since 1993. She currently works as Deputy County Attorney in the Maricopa County attorney's office in Phoenix, Arizona, as well as the chief of the Special Victims Division, although the statement notes that she's on leave from both positions. Before then, Mitchell spent 12 years running the sex-crimes bureau, which is responsible for prosecuting felonies like child molestation, adult sexual assault, and domestic violence, according to the statement.
The selection comes just days after Ford's lawyers and representatives for the committee reached a final agreement for Ford to testify about her allegations, which date back to more than 35 years ago. According to Ford, Kavanaugh allegedly pinned her down and tried to remove her clothes during a party back when they were in high school — a moment she claims left her traumatized. Kavanaugh has repeatedly denied Ford's accusations, and said he was willing to testify before the Senate to "refute" the claims against him. "This is a completely false allegation. I have never done anything like what the accuser describes—to her or anyone," Kavanaugh said in a statement, per CNBC. Elite Daily reached out to representatives of Kavanaugh for further comment, but did not hear back.
Another woman, Deborah Ramirez, also came forward with allegations against Kavanaugh following Ford's claims, which date back to when Kavanaugh was a freshman at Yale University during the 1983-84 academic year. The New Yorker reports that Ramirez claims that while the two were at a party Kavanaugh "exposed himself" to her and "thrust his penis in her face," causing her to touch it without her consent. Kavanaugh has also denied the allegations, saying: "This alleged event from 35 years ago did not happen." Elite Daily reached out to representatives of Kavanaugh for further comment, but did not hear back. Though Ramirez has offered to testify against Kavanaugh, it's unclear if she'll take the stand. According to her lawyer, the committee hasn't "invited her" yet.
Though Ford might be the only one with the chance to testify against Kavanaugh, her comments could mark a dramatic end to Kavanaugh's turbulent confirmation process. Stay tuned.