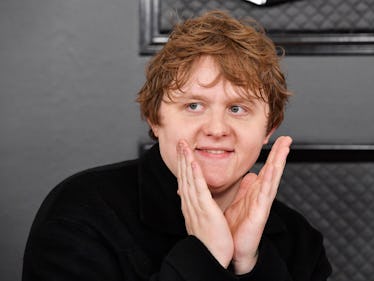 Lewis Capaldi Gushed Over Chicken Parm At The Grammys & I Can Relate
Frazer Harrison/Getty Images Entertainment/Getty Images
Every time I tune into an awards show, my first question is always: Do the celebs get to eat? Is there an exclusive spot before they enter the venue where they can grab a slice of pizza or order something for later? And it looks like I'm not the only one — Lewis Capaldi gushed over chicken parm at the Grammys, which would totally be my #mood and go-to interview style, too.
Seriously, I couldn't relate more. I would walk straight up to the mic and speak to chicken parm's amazing ability to fill me up with joy and love, just like Capaldi did. He painted a beautiful picture for viewers at home, asking interviewers and fans to imagine a scenario in which you've just finished a bowl of chicken parmesan. In his own words: "You're lying there. Your belly is bloated, the TV is on, and you're thinking, 'You know what? This is the life.'" That is the life, huh?
Capaldi first mentioned his undeniably adorable chicken parm metaphor during an Access interview, in which he was also asked about his Grammy nomination. The musician responded by telling an elaborate story, in which he mentioned Game of Thrones. Don't believe me? Check out the video clip of Capaldi's for yourself, and then delve into this delicious bit a little more.
Following the Access interview, Capaldi went on to speak with Ryan Seacrest, and once again mentioned chicken parmesan. He fully described the feeling eating chicken parm gives him, and how much that reminds him of what its like to be nominated. "Bloated with love," he said. "Do you know what I mean? And gratitude."
Fans took to Twitter, tweeting their support for the Scottish singer-songwriter. Some said they stan his love for the Italian dish, and felt connected to his interview on a somewhat spiritual level. There was even a fan who ordered chicken parmesan in his honor. (Ugh, got to love an adoring fan base.)
At the 2020 Grammys, Capaldi is nominated for Song of the Year for "Someone You Loved." Whether or not he goes home with the award, I think it's safe to say he's won the red carpet in our hearts — and will likely enjoy a plate of chicken parm on the couch shortly after.