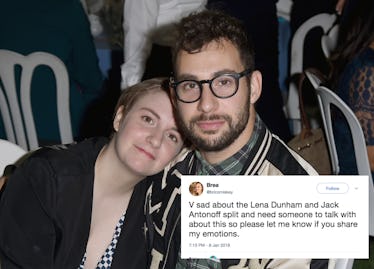 Lena Dunham & Jack Antonoff Reportedly Broke Up, & Twitter Doesn't Know How To Feel
Jason Merritt/Getty Images for The Rape Foundation
2017 was filled with some major celebrity splits that broke our hearts. Anna Farris and Chris Pratt, Robert Pattinson and FKA Twigs, Ben Stiller and Christine Taylor, Josh Duhamel and Fergie, just to name a few of the biggest splits we saw. We thought maybe we'd catch a break from the splitsville news in 2018, but lo-and-behold, as of Jan. 8 we officially have our first major "conscious uncoupling" of the year. Lena Dunham and Jack Antonoff reportedly broke up, and Twitter doesn't exactly know how to take the news.
According to E! News, the longtime couple have decided to call it quits after five years of dating, a source close to the pair reportedly said. The media outlet's insider says that Dunham and Antonoff parted ways back in December, and that their split was a mutual one. The two started dating in 2012, after being set up on a blind date. In an interview with New York Magazine, Antonoff said of their first meeting, "I told Lena everything about my whole life, because when you really like someone, you want them to know everything about you." And the two have shared some seriously adorable moments over the course of their relationship.
But cuteness aside, given the contentious comments Dunham has made in recent memory, not everyone is sad to see her parting ways with Antonoff. She's said that she "wishes" she'd had an abortion, accused football player Odell Beckham Jr. of body shaming her at the Met Gala in 2016, and defended Girls' producer Murray Miller after he had been accused of rape, just to name a few moments.
Twitter users seem to feel... well, a lot of ways, as is evidenced by the polarizing reactions to the breakup news.
Some Dunham and Antonoff supporters were heartbroken to see this relationship end.
And other users were... not as upset, to say the least.
And at least one Twitter user was mostly concerned with what happens to Taylor Swift now, who's friends with both Antonoff and Dunham.
Whether you're a fan of hers or not, it is always sad to see a relationship end, especially one that lasted for as long as theirs. Say what you will about Dunham and her controversial moments throughout the years, but her relationship with Antonoff was actually super adorable and filled with real love.
Just a couple of months ago in Oct. 2017, Dunham penned a tribute letter to Antonoff in Variety, who made the roster as a part of the publication's New Power of New York list. In the sweet op-ed, Dunham writes,
It's safe to say that before Jack my life was full of far fewer sights. He showed me the importance of making political statements using your public platform. He showed me the joy of collaboration.
For the couple's three year anniversary in 2015, Dunham shared a particularly heartwarming message with her fans, where she thanked Antonoff for everything he's done for her as her partner. She said in the adorable Instagram post, "In 30 minutes it will be 3 whole years since this straight up CREATURE crept into my life. I feel lucky every day."
No matter how you personally feel about Dunham, it's truly always sad to see a loving couple end a long-term relationship. There was real love between her and Antonoff, and love lost is something we can all sympathize with. Here's hoping 2018 is a great year for them both despite the split.
And here's to hoping that we'll see less celebrity splits in the coming year, because I don't think I can take another Anna Farris and Chris Pratt situation again. #Feels.