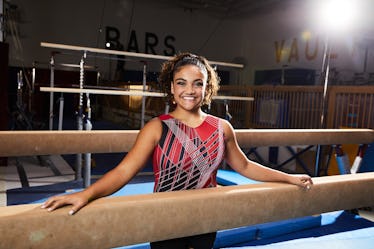 This Olympic Gymnast's Form Of Self-Care Is Seriously Relatable — EXCLUSIVE
Alcon Dailies
During the 2016 Summer Olympics, Laurie Hernandez won America's hearts with her bubbly personality and epic beam skills, and she went home with a gold in the team competition and silver on the balance beam. The gymnast was 16 years old at the time, and for the last two years, she's been taking a well-earned break from the intense sport. But now, with 2020 quickly approaching, Laurie Hernandez is returning to gymnastics, albeit to a completely different environment than during the last cycle.
"Still looking towards 2020," Hernandez tells me in an interview for Elite Daily while doing press for Alcon Dailies AquaComfort Plus in New York City. "That's the goal."
You have to separate what the gymnasts are doing versus what's happening behind the scenes, because what's happening behind the scenes 1,001 percent needs to change, but we can't take away the sport from the gymnasts.
When Hernandez was competing in Rio in 2016, USA Gymnastics athletic trainer Larry Nassar had quietly stepped back from his duties while in the midst of an investigation, which eventually led to his sentencing of hundreds of years in prison on federal child pornography and criminal sexual conduct charges this past winter. Of Hernandez's "Final Five" teammates, three (Simone Biles, Aly Raisman, and Gabby Douglas) have come forward as having been abused by Nassar; of the 2012 "Fierce Five" team, Douglas and Raisman were joined by McKayla Maroney and Jordyn Wieber in coming forward.
"It's been incredible, and I support every single one of them for coming forward. They've given others the strength to come forward as well because of it, which is a beautiful movement," Hernandez says about watching her teammates come forward both in court and in speeches and testimonies around the country. "It happened in gymnastics, and it's happening outside of gymnastics, in other places as well, so as long as we can look forward to more positive changes and help make those changes, I think that's the biggest thing."
Hernandez is returning to a gymnastics world that is uncertain about its own future, as the leadership at USA Gymnastics has been overturning and as current and former gymnasts are calling for more reform to the sport to protect athletes. But, Hernandez says, she keeps the institution of USA Gymnastics and her own training separate in her head.
"You have to separate what the gymnasts are doing versus what's happening behind the scenes, because what's happening behind the scenes 1,001 percent needs to change, but we can't take away the sport from the gymnasts, because these girls love to flip, and [younger girls] love to watch the older girls do what they do, and they want to be just like them," Hernandez says.
With that in mind, Hernandez is focusing on her own work in returning to the sport and keeping 2020 at the forefront. To get there, she'll have to stay motivated — not a problem, she says, as she's "still very much passionate about" gymnastics — and healthy, physically and mentally.
When it comes to self-care, Hernandez is a big fan of naps, she shouts with a giggle. But beyond that super relatable option, her self-care can vary.
"It really depends what I need in that moment. For the most part it's moving. Sometimes it's going for a extremely slow, long jog and getting away from everyone to seeing how far me and my sister can push ourselves in a workout. And sometimes it's just sitting at home and sleeping and watching Netflix and cooking with my mom in the kitchen really late at night and watching movies. It's really anything family-oriented, honestly," she says.
Hernandez's family has been at the core of getting her through the intense life of being an elite gymnast. She has an older sister, 29, and brother, with whom she plays around with making music (and for the record, these days she's into the new Shawn Mendes album and Dua Lipa's "One Kiss"). Her parents, she says, "were reinforcing at a very young age that my health always comes first." Thanks to them taking her for a checkup at an optometrist when she was 12, she discovered that her vision wasn't great and started using Alcon Dailies AquaComfort Plus contacts, without which she wouldn't be able to see exactly where that four-inch wide beam ended.
Beyond taking care of herself, Hernandez takes time to help others. When we spoke, she had just gotten back from a trip to Italy and Spain with Wieber and Desiree Sanchez, a gymnastics coach, to run clinics with U.S. service members and their families (especially meaningful as Hernandez's mother was in the Army Reserve). Earlier this year, Hernandez launched Obsess, a clothing line with JCPenney that promotes body positivity for girls with sizes seven to 20.
"As a gymnast, we're striving for perfection every single day in every single routine from the way that our leotard looks to our hair and our routines, and also the way that we look physically," she explains about the inspiration for the brand. "So it's making sure that these girls know, you know what, it's OK to grow. You're going through puberty, like, that's normal. It's OK. You shouldn't be ashamed about that."
It's the kind of message that may have been perhaps too-outspoken to hear from an Olympic gymnast in previous years, but one that fits right in with today's gymnasts. These young women are not allowing old-guard stigmas and structures control them anymore — and they're going to do some incredible flips and win medals at the same time.