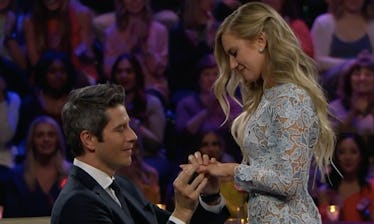 The Sneaky Way Lauren B.'s Body Language On 'ATFR' Reveals She Doesn't Trust Arie
ABC
One single question has been reverberating through my group chats this week: If you were Lauren Burnham, could you take Arie Luyendyk, Jr. back? Clearly, she could — I mean, she did. She asked Arie a few basic questions about his feelings for her and Becca when he visited her family's home in Virginia in January. Then, during The Bachelor's "After the Final Rose" special on Tuesday night, when Arie asked her to marry him, she said, "Definitely!" without any hesitation. But while her words might sound rock-solid, Lauren and Arie's body language on "ATFR" reveals something entirely different.
"Lauren does not trust Arie," says matchmaker Kailen Rosenberg, who serves as Oprah's Love Ambassador on Lovetown, U.S.A., is the author of Real Love, Right Now, and is the founder of The Lodge Social Club. "She stares continuously at his eyes and then his mouth and then his eyes again. This is her soul searching for answers."
You can see the exact move Rosenberg is talking about below, when Arie was in the midst of breaking up with Lauren in Peru in November: She gazed intently into his eyes, then glanced at his mouth, then back up to his eyes again, as if she felt lost and confused and was searching his face for answers.
On Jan. 16, about six weeks after proposing to Becca, Arie had broken up with Becca and traveled to Virginia in hopes of reuniting with Lauren. At first, Lauren gave him a huge, intense hug, and it seemed like she immediately forgave him, no questions asked. But then — thankfully! — she brought him into the living room to ask why he returned and if he still had feelings for Becca. Smart move. During that conversation, you can see Lauren's gaze flitting between his eyes and mouth again. According to Rosenberg, that means she's looking to see if his words match his actions to determine how trustworthy he is.
During that same conversation, Lauren asked if he was "100 percent over Becca." Arie looked away, then shook his head and said, "Yes, a thousand percent." But his body language (shaking his head no) and his words (saying yes) don't match, which is fishy. "Even when Lauren asks Arie sincere questions, his body language and words are conflicting in his responses," Rosenberg notes. "His head is shaking no when his words are saying yes."
On Wednesday morning, the newly engaged couple went to Good Morning America to discuss their relationship. If you haven't bought into Rosenberg's theory just yet, this clinches it: Watch how Lauren's eyes flicker around Arie's face as he tells host Michael Strahan about how he tried to win her back.
While Lauren's eye movements might seem like a tiny detail, Arie has apparently picked up on them months ago — and they may have made him nervous. During "After the Final Rose," he commented that he worried about proposing to Lauren in Peru because she "looked like she had doubt in her eyes." Lack of direct eye contact might seem minor, but in this case, it was a major deal.
Lauren has admitted in the past that she has a tough time trusting people. It's easy to understand why she would have a difficult time putting her faith in a man who broke up with her, proposed to Becca the same day, then broke off that engagement six weeks later, claimed to have no feelings for Becca at all, and then proposed to her on live television. It would be reasonable for anyone to have doubts about the situation. Heck, if you don't have doubts about that situation, I have some questions for you.
Falling in love is like doing a trust fall: You cross your fingers and hope that your partner is going to catch you. Without trust, it all falls apart.