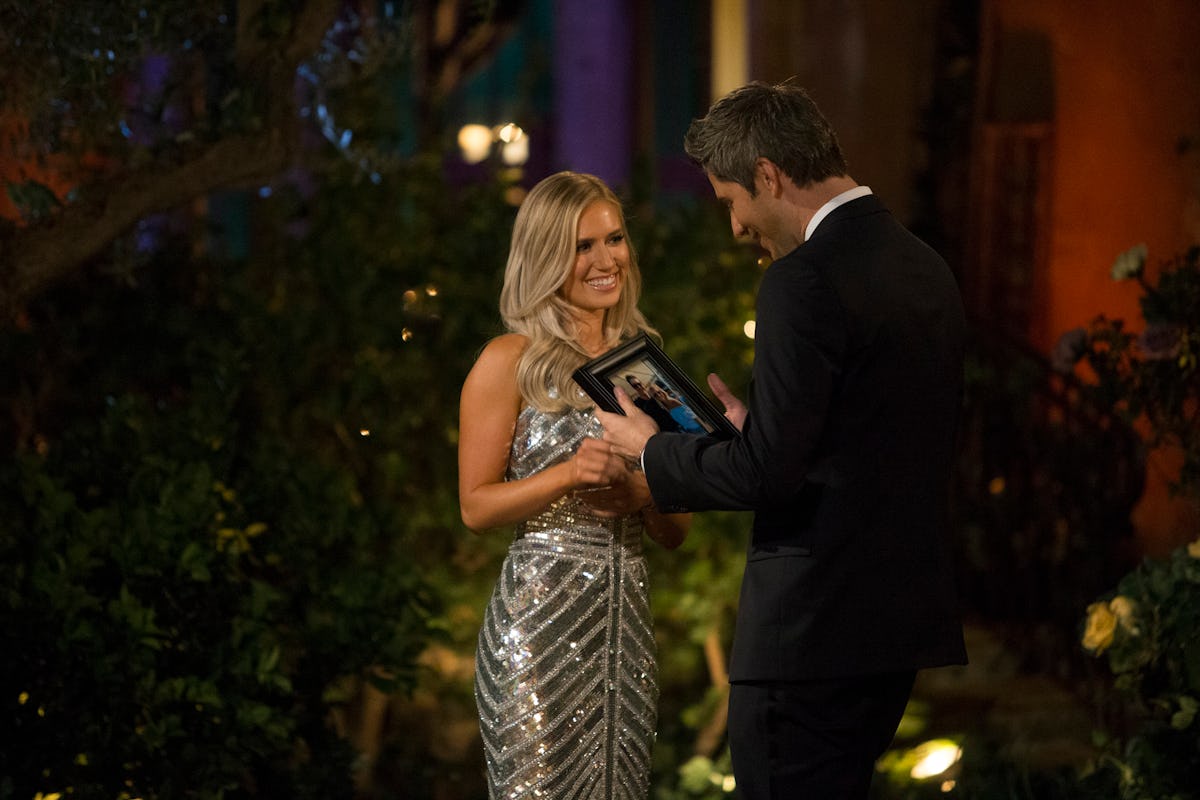 An Expert Analyzed Arie & Lauren's 'Bachelor' Body Language & It's So Fascinating
ABC
The last Lauren left on The Bachelor (there were four at the start) is Lauren B. She pretty much came out of nowhere to end up in the final two with Becca K. Fans have been rather skeptical about Arie and Lauren B.'s relationship since they had an awkward one-on-one date in Paris, but Arie seems to be unable to deny his feelings for (and attraction to) Lauren in the weeks since. Because they both show very little personality on the show, maybe Arie Luyendyk Jr. and Lauren B's body language could tell viewers more about what's truly going on?
As always with this franchise, the ones with the most personality are gone by the end of hometowns. I loved Tia's outgoing, spunky vibes, and Kendall's passion for taxidermy. I think either of them would make an excellent next Bachelorette — are you listening, ABC? But also, let's have an LGBTQ+ Bachelor or Bachelorette in that house already.
Lauren B. is your typical basic winner material. She's gorgeous, has the "je ne sais quoi" that makes men want to propose to her (she's been engaged twice before), and opened up a bit more in Tuscany, I'm still not convinced that her and Arie truly have any spark. To be honest, I am starting to feel like the only things Arie is passionate about are race cars, his parents, and Scottsdale.
Because I clearly have some strong opinions on Arie and his taste when it comes to this particularly spectacular batch of women, I decided to consult body language expert Traci Brown to get her two cents on what Lauren B. and Arie's body language suggests. Here's her take on the pictures I shared with her:
From the start, Lauren held back around Arie.
From their initial meeting, both Lauren and Arie seem a bit shy, especially compared to his first interaction with some of the other women in the house. "With Lauren, he's more reserved which matches the personality she's shown," says Brown. "He's kind of a chameleon with his behaviors." I 100 percent agree! Arie's body language is as hard to read as his constant description of all things, people, and feelings as "amazing."
She adds, "Lauren is trying to make her impression by sucking him into whatever she's showing him" on the first episode. Brown adds that this could mean that she's going to use her sweetness to attract him, which is pretty much what we see happen over the course of the season.
It takes a long time for Lauren to open up.
"Lauren is shown being more coy," says Brown. "And that would match the body language of her introduction. She's leaning away more in these specific pics." It's true, Lauren has been a bit of a late bloomer when it comes to being vulnerable on the show.
By the bowling date, Arie seems more into Lauren.
The way Arie is guiding Lauren, who still looks somewhat withdrawn on the bowling date is also telling. "She's not showing any more attraction to him as time goes by so he might be more into her [than she is into him]," says Brown. Again, this is from before Lauren really came into the picture as a frontrunner, but maybe Arie has had his eye on her the entire time outside of what the show has shown us?
By hometowns, the pair still seems hesitant.
Brown watched the video above without sound and solely read the body language at Lauren's hometown date. "Parental meetings can be quite uncomfortable and that's what we see with Arie and Lauren," says Brown. "There's no PDAs whatsoever, they don't seem to be sitting that close together, and they both seem like they'd rather be somewhere else." I also continue to doubt that Lauren and Arie are as into each other as they say they are because of their weird hesitancy around each other.
Brown thinks Lauren and Arie look less in love than Becca and Arie. "I'm looking for the size of their smiles, and the intensity," explains Brown. "You can see true happiness in the outside corners of the eyes. Lauren just isn't as intensely happy as Becca, and he's mirroring each of their individual energy when he's with them."
While I agree with everything Brown shared with me, there's a part of me that thinks that Arie loves blondes and is going to go for Lauren. Only time will tell.