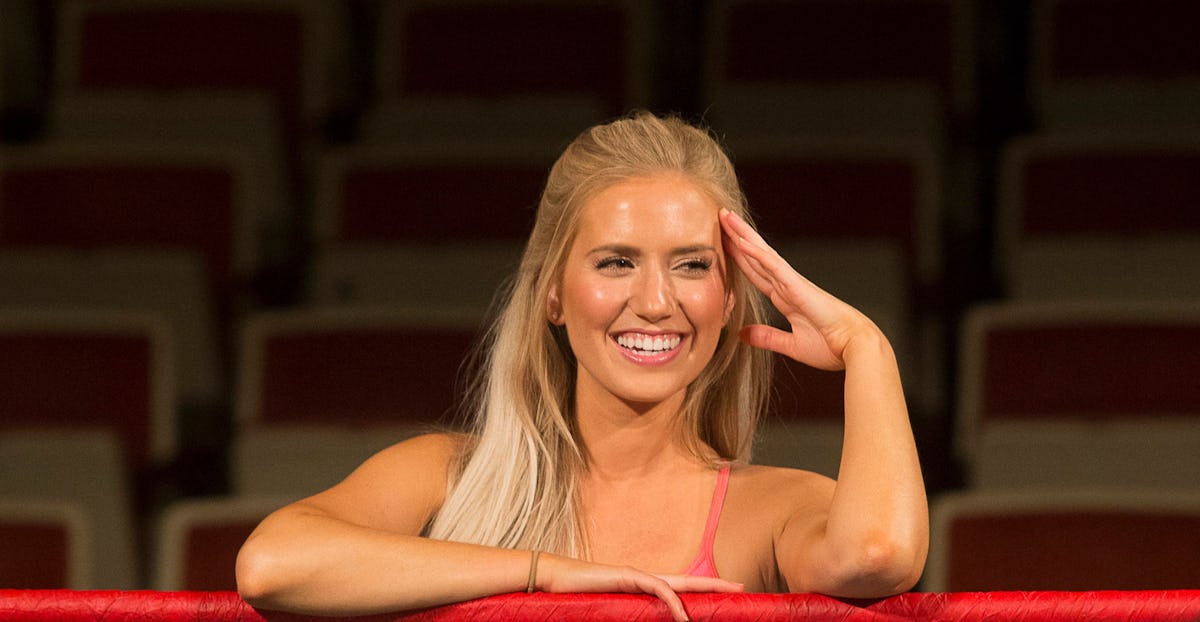 This 'Bachelor' Contestant Has Actually Been Engaged Twice Before, Here's The Scoop
Lauren B.'s relationship with Arie is truly a mystery to me. The shy blonde is not the most talkative, which has made us in the audience question exactly why Arie is so intrigued by her. Lauren has talked to Arie about her failed engagement, but what she hasn't spilled on TV is the secret that she actually has two previous engagements to her name. With these two men having played a huge part in the 25-year-old's life, we have to ask: Who did Lauren B. date before The Bachelor?
Lauren first referenced her most recent engagement in a one-on-one date with Arie, telling him:
I felt that was something very serious and I was ready for it and I thought he was my person I was going to be with for the rest of my life. Then as soon as we got engaged, he was cool with not treating me very well. It did affect me emotionally and I'm even more guarded than I was before.
Internet sleuths have discovered this fiancé to be professional hockey player Chris Crane. Playing for the Toronto Maple Leafs, the 26-year-old was scheduled to marry Lauren in July 2017, as evident by the remnants of their wedding registry. While The Bachelor began filming in September 2017, Lauren's engagement actually ended at the end of 2016, giving her nearly a year of bouncing back before starting on The Bachelor.
The registry isn't the only reminder of the couple's relationship on the internet. Chris's proposal to Lauren exists in video form, revealing that he popped the question with their families surrounding them. You can spot Lauren's parents, who were both initially skeptical of Arie during her Bachelor hometown date, in the background of the video.
Chris has also kept up a 2016 Instagram post of the two with friends on the Fourth of July.
But, as ABC executive Robert Mills revealed in an episode of The Ringer's Bachelor Party podcast, Lauren B. has actually been engaged twice. Seeing as she's only 25, I'm definitely curious about the timing of the first engagement. Was there a college sweetheart somewhere along the line? An optimistic high school sweetheart?
Although Mills teased on the podcast that we would learn about both of her engagements on Lauren's hometown date, this wasn't the case. Instead, we got her dad geeking out over Arie's tour of Iraq and Lauren asking her aunt for her blessing before talking to her mother about it.
While there's speculation that Mills' knowledge of Lauren's romantic past is incorrect and that she was only engaged to Chris, host Chris Harrison seems to believe that her failed relationship isn't a huge concern for Arie. In his Entertainment Weekly blog about the hometown dates, Chris wrote:
For some reason, Arie seemed the most nervous about this date. Maybe it was for the same reason he seemed so shaken on his last date with Lauren. Arie has had a hard time this season quantifying his relationship with Lauren (not that there's anything wrong with that!), and I think he knew it was going to be tough to try to explain that to some appropriately skeptical family members. Arie's relationship with Lauren is clearly different from the others and it will be interesting to see how that plays out in the coming weeks.
Count me in as someone who still doesn't get why Arie is so attached to his relationship with Lauren. While I may not be her biggest fan, I do think that Lauren had a rough situation with her last engagement and doesn't deserve another heartbreak so soon after. Given the rumors that she's dating Arie post-show, maybe the pair's mutual dullness is a stronger bonding technique than we'd think.
The Bachelor returns on Sunday, Feb. 25 with the Women Tell All special at 8 p.m. ET on ABC.