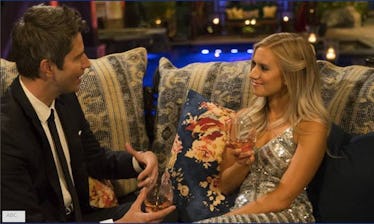 Arie & Lauren B. Reunited After 'The Bachelor' & Twitter Has Serious Feelings About It
ABC
We've barely had time to recover from the three-hour debacle that was Part 1 of The Bachelor finale, and here we are back at it again for "After The Final Rose." At 20 minutes in, we already have the answer to whether or not Lauren will take Arie back after he sent her home and chose Becca instead, only to later change his mind. He showed up at her parents' house in Virgina Beach to try and win back her love, and she literally leapt into his arms. So not how I would have reacted, but whatever. Now tweets about Arie and Lauren B. reuniting after The Bachelor are blowing up on Twitter, and I am SO here for it!
A lot of fans on Twitter think it's totally weird that Lauren took this guy back so quickly. I mean, he broke her heart, left her in tears after telling her he loved her "so much" about a billion times, and then turned around and proposed to Becca five minutes later. It was seriously painful to watch a blindsided Lauren crying in that car ride away from Arie, so I just don't get the whole jumping-ecstatically-into-his-arms thing. And neither, apparently, do all The Bach fans over on Twitter.
Check it out:
A bunch of tweets even featured reactions from Bekah M. because her facial expressions are always priceless, and she is pretty much perfect and can do no wrong in my book.
I could watch these all day. In fact, I would rather watch these all day than watch Lauren forgive Arie, but such is life. At least we got to see Arie have a minor "panic attack" before knocking on Lauren's door. And Lauren did say that she gave him a little bit of a hard time when he first got in touch with her.
"When Arie first reached out, I was a little angry, honestly, because I thought he was only doing it to get closure for himself," she said. "So, while I'm happy to see him before moving forward, I definitely have a bunch of questions that I want to ask him."
"It's been the hardest month and a half without you," Arie told her. "I know that you've gone through hell, but I came here today because I want a second chance and I want a shot at this."
Lauren then told him that when she first returned home to Virginia Beach after he dumped her, she felt so alone and couldn't talk to anyone about it. "The fact that I lost you the same day that you got engaged, it was really tough for me to accept that," she explained. "It kind of was crushing me. It was really hard for me to readjust and not focus on that and focus on work."
Super sad. Which makes her smile and warm embrace on the doorstep seem even more bizarre. At least before she totally forgave Arie, Lauren was smart enough to ask him if he was totally over Becca.
"Yes, 1,000 percent," he assured her. "My heart's with you and will always be with you. I love you very much and I want you back."
So do I believe him? I'm kind of not sure. I do think Lauren is the one Arie loved from the beginning and wanted to propose to, but then he totally got swayed by his family's positive opinions about Becca.
Still, I think Lauren is a sweetheart and a good person and I really do hope this all works out for her and she gets her happy ending.
But then again, I'm also still hoping THIS happens: