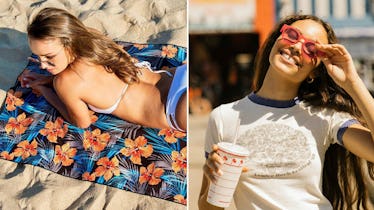 9 Labor Day Essentials Every Procrastinator Needs To Pack In Her Beach Bag
Labor Day weekend always has this sense of urgency to it. It is the final hurrah of the summer season. It's like our last chance to take in the sun, sand, and surf that we all love. Luckily, we get a three day weekend to do it all, so for everything you weren't able to cross off your summer bucket list, now is the time. Get your friends together for a weekend away, and pack away some last-minute Labor Day essentials.
We didn't expect summer to fly by so quickly, so I don't know about you, but I'm personally scrambling to fit everything fun in the sun in my remaining days. That means planning my epic Labor Day weekend vacay now. Though, those lazy days of summer has us doing everything so last-minute, and waiting until then can create some major stress, which is not the summer way. That's why even the ultimate procrastinator will be all set with these nine last-minute essentials to pack away for your weekend of fun. It's like the perfect summer kit full of everything you need for the beach, hanging by the pool, and going out with your entire squad. Now, that the packing is done, all you need to do is have the most epic Labor Day weekend ever, and say, "sea you soon" to summer.