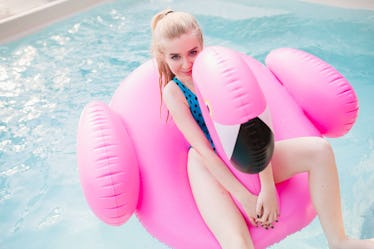 30 Labor Day Weekend Captions For Your Bittersweet Goodbye To Summer
It both excites and hurts your heart to think that you are beginning to get your Labor Day weekend plans in order. Summer sure knows how to speed by as it distracts us with amazing, sunny weather and carefree vibes. Labor Day is on Monday, Sept. 3, and although it's not the official day that closes the chapter on your beloved summer, it's a sign that the time is near. Your Labor Day weekend 2018 Instagram captions are going to express how much you'll miss the sun, surf, and sand, but also how stoked you are about your mini vacation at the lake or beach.
Labor Day is such a bittersweet time, because many of us get a three-day weekend. (And you can't be too salty about that, right?) You'll be making some pretty sweet memories for your feed — especially if you and your friends are renting a beach house to really live it up as you kiss summer 2018 goodbye.
You have to be optimistic when it comes to letting go of summer. It's going away, but not forever — and you're able to enjoy one last hoorah in the sun. Your Labor Day weekend should be full of high spirits, bathing suits, a body of water, and delicious barbecue food. You're going to figure out your own seasonal send-off, but any of these 30 captions will give your last salty hair pics an eternal summer vibe.
1. "Dear summer, please don't go." — Unknown
2. "No frowning, it's a three-day weekend." — Unknown
3. "Things end, but memories last forever." — Unknown
4. "Excuse me, I have a date with the last days of summer and the beach." — Unknown
5. "Nothing compares to the bittersweet moments of Labor Day weekend." — Unknown
6. "Never stop chasing your summer." — Unknown
7. "Every summer has a story." — Unknown
8. "Summer, who told you it was OK to leave?" — Unknown
9. "Got that summer in my pocket." — Unknown
10. "When in doubt, vacation." — Unknown
11. "Let's just press the restart button on summer. Who's down?" — Unknown
12. "Because when you stop and look around, this life is pretty amazing." — Dr. Seuss
13. "Don't worry. Beach happy." — Unknown
14. "Trust that an ending is followed by a beginning." — Unknown
15. "Time to slay a new season like it's summer year-round." — Unknown
16. "Less Monday, more summer." — Unknown
17. "By beach, sea you later." — Unknown
18. "Three-day weekends were made for the beach." — Unknown
19. "Oh, summer. You're a whole lot of lovely." — Unknown
20. "Happiness is not having to set your alarm for Monday." — Unknown
21. "Summer's ending, but I'll always have salt in my hair and sand in my heart." — Unknown
22. "If you're not barefoot, then you're overdressed." — Unknown
23. "Make it a September to remember." — Unknown
24. "Summer might be over, but this weekend, the fun is just beginning." — Unknown
25. "Sorry for what I said when I thought summer was over already." — Unknown
26. "Don't cramp my beach vibes." — Unknown
27. "Leave my pool float and I to enjoy these last moments together." — Unknown
28. "Stay salty." — Unknown
29. "BRB, leaving my end of summer tears in the ocean where they belong." — Unknown
30. "Gone coastal. Be back never." — Unknown