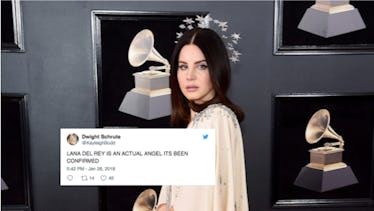 Lana Del Rey Showed Up To The Grammys Like A Constellation & People Are Loving It
Jamie McCarthy/Getty Images Entertainment/Getty Images
We're seeing stars. The red carpet is always about watching our favorite celebs work their style and absolutely slay. The same questions always come to mind: Who is she? Who is she wearing? The ultimate goal is to make a statement, while totally showing off some personality in your look. If you're anything like me, your guilty pleasure is probably all those posts you read telling you what to do according to your zodiac sign (next to watching these award shows every season). Lana Del Rey's 2018 Grammy look will seriously speak to your star sign, and have you wondering where in the world this goddess has been all your life.
Lana Del Rey has been nominated this year for Best Pop Vocal Album for Lust For Life. Released in July 2017, it has been one of the stronger works to come out of her career (in my personal opinion). She collaborates with artists like The Weeknd, Stevie Nicks, A$AP Rocky, and Sean Ono Lennon on tracks that are hauntingly beautiful and glamorous. You'll be instantly in your feels after just a few minutes of listening, but also totally transported into the vibes of a cool California city.
In the past, Lana has been known for tracks like "Florida Kilos," "Summertime Sadness," and "Young and Beautiful" (which was used for The Great Gatsby soundtrack.). Her voice is almost cinematic, letting notes vibrate for several seconds and giving a lot of soul to dramatic lyrics. Lust For Life doesn't stray much from this mood, but brings a whole new level of Lana. Give the title song a listen:
Before the show, some awards were announced and unfortunately, Lana did not win her category. The competition was fierce, and Ed Sheeran took home the trophy for his album Divide. This would have been Lana's first-ever Grammy win, but we have a lot of hope that she'll continue to slay with her vocals and steal the stage in years to come.
For now, she still totally took over the red carpet spotlight in her custom Gucci gown. We often credit Beyoncé to being the goddess that walks among us, but Twitter is seriously freaking out over how stunning this singer looked walking down the Grammys runway. Sometimes Lana can be totally daring on the red carpet, and her fans are quick to follow in her footsteps in flower crowns and cosmic designs. Trying something new and bold is what fashion is really all about, but it's always a nice reminder that something simple can still make such a statement.
Lana reportedly channeled American-Austrian film actress, Hedy Lamarr, for her Grammys look with a star-studded headpiece and flowing gold gown. The dress was a perfect pale yellow with silver detailing on the shoulders that faded down the sleeves. She also sported a white rose on her wrist, a sign of support you'll see on many stars for the Time's Up movement. (Because the red carpet isn't all about making just fashion statements anymore — here's to using our stages to speak up, too.) The biggest complement to her look? The dreamy headband on top of her head that pairs perfectly with her metallic heels. Totally celestial and chic.
If you weren't a Lana fan before, you just might be now. We knew yellows were in this season, but this look makes us want to start on our spring shopping a little early this year.
I've never felt those mustards were meant for me, but Tim Gunn would be happy to know that after this red carpet outfit, I'll be making it work. Making statements is seemingly the work of a Sagittarius, or eccentric Aquarius on any given day — but, the universe is sending some serious vibes that we need to channel something undeniably cosmic in our closets.
Check out all the fans and music lovers alike react to Lana's Grammys look below:
And of course, fans were furious when they found out she didn't cop the award this time around. But Lana's already moving forward, and teased a song to Pitchfork called "Bartender," so don't get too sad. New singles are on the way!
Catch Lana Del Rey amongst the constellations. The red carpet is always supposed to be star-studded, but her look was out of this world.