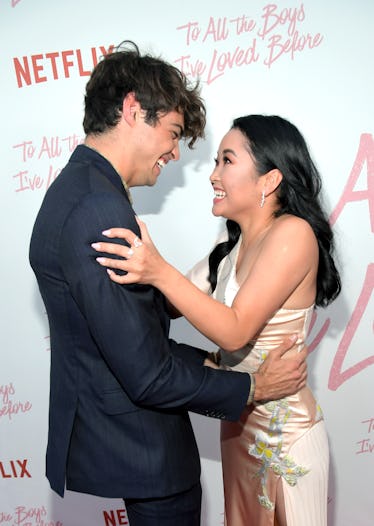 Lana Condor Gushing About Her Relationship With Noah Centineo Will Seriously Make You Melt
Charley Gallay/Getty Images Entertainment/Getty Images
It's been close to three months since To All The Boys I've Loved Before first dropped on Netflix, and I still want Peter Kavinsky and Lara Jean to be together in real life, don't you? They just had so much freaking chemistry — maybe even more than Bradley Cooper and Lady Gaga in A Star Is Born. OK, not more. But definitely just as much. Anyway, while the actors who play Peter and LJ in the movie may not be an actual couple off screen, they do have a pretty bomb connection. In fact, Lana Condor's comments about her relationship with Noah Centineo will make you so jealous. I mean, I totally ship these two. But I also find myself coveting their close alliance. And yes, I know these two feelings should probably be mutually exclusive. But they're just not, so deal with it, fam.
Anyway, Condor opened up about her dreamy TATBILB co-star in the new issue of Rollacoaster magazine, available Oct, 19.
"It's so funny, I feel like I'm living every girl's fantasy, because I have this beautiful relationship with Noah," she reportedly explained to the publication. "He's a great friend of mine in real life."
Ugh. So not fair! I mean, Condor gets to have a makeout sesh with Centineo in the movie and be besties with him IRL? Spread the love around a little will you?
Meanwhile, these two are just so freaking supportive of each other. Like, did you see Condor's post in response to Centineo's Charlie's Angels casting? In case you somehow missed the big news, the Netflix superstar landed a role in the iconic reboot, and Condor couldn't be happier for him. She recently shared the cutest picture of herself laughing with Centineo on the red carpet, along with the caption: "I am so unbelievably proud of you and your new casting news!!! It is sooo well deserved and I'm beyond happy for you, go get em love xx @ncentineo."
She called him "love," you guys. I want them married now. And Condor totally gets why some of her fans feel this way.
"I would say that we probably did our job right if people like us together," she continued. "I mean, when I watched the film back, I wanted Peter and Lara Jean to be together!"
Of course, in real life, Condor has a boyfriend of three years named Anthony De La Torre. And she feels pretty #blessed about the way that's played out, too.
"I have this beautiful relationship with my real-life boyfriend," she explained. "I don't know how I got so lucky!"
It prob doesn't hurt that Condor said she's always been a hopeless romantic.
"I was the girl in middle school who would write those little letters, like 'Do you like me? Do you not like me? Check yes or no!'" she said. "I still write love letters now and so does my boyfriend. He even draws pictures on the front. I would say he's more romantic than I am!"
Hmm, sound familiar?
I wonder if this De La Torre guy likes milkshakes, too.