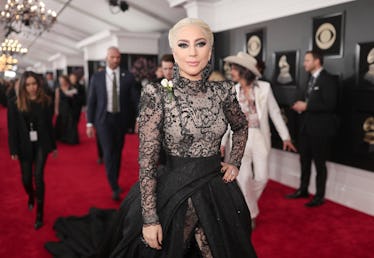 Lady Gaga Wants You To #BeKindBeTheDifference For Mental Health Awareness Month
Christopher Polk/Getty Images Entertainment/Getty Images
As a celebrity who always strives to be at the forefront of social change and activist causes, it should come as no surprise that Lady Gaga's #BeKindBeTheDifference campaign is bringing awareness to mental health in the best possible way. In honor of May's Mental Health Awareness Month, Gaga's Born This Way Foundation (BTWF) is teaming up with the National Council for Behavioral Health for a campaign that encourages people to get trained in Mental Health First Aid — and yes, that is totally a thing, in case you didn't know. This isn't your typical first-aid training process, but it's so necessary and innovative — not to mention, there may be an awesome prize in store for you if you do get involved — so I highly suggest you sign up and learn more about this incredible initiative ASAP.
According to the campaign's press release, Mental Health First Aid is a transformative, evidence-based program that can teach you "how to identify, understand, and respond to signs of mental health and substance use challenges and crises." At a time when one in five adults in the U.S. are currently living with a mental illness, this program could not be more opportune, and I personally can't think of anyone better than Lady Gaga to spearhead this mission. In the past, Gaga has spoken out about the stigma of mental illness, even writing and performing a song ("Born This Way") in direct response to the societal insecurities many people feel.
The Mental Health First Aid program is amazing because it provides you with actual tools to help you support someone struggling with a mental illness in the best, most effective ways possible.
Here's how the whole thing works: Per the campaign's press release, "#BeKindBeTheDifference calls on members of the public to pledge to get trained in Mental Health First Aid." Anyone who takes the pledge will automatically be entered into a contest to win two tickets to see the hit Broadway show Dear Evan Hansen, a backstage VIP meet and greet with the cast of the show, and an exclusive dinner with BTWF president and co-founder, Cynthia Germanotta (who also happens to be Lady Gaga's mom, BTW). In case you don't know, Dear Evan Hansen is an award-winning Broadway musical that addresses mental illness head-on: The show's main character, Evan Hansen (played by Taylor Trensch), is a high school senior with social anxiety, and the musical is all about him navigating life and finding his purpose following a classmate's tragic and unexpected suicide.
This specific contest may be new, but the initiative itself (and Lady Gaga's involvement in it) isn't. According to the press release, over one million people in the U.S. have received Mental Health First Aid training to date, "including 150,000 during Lady Gaga's recent Joanne World Tour."
It's not surprising that Lady Gaga would pioneer this initiative, as her own organization, the Born This Way Foundation, is founded upon similar principles.
According to foundation's website, its mission is all about "supporting the wellness of young people and empowering them to create a kinder and braver world." The BTWF accomplishes this by partnering with evidence-based initiatives (such as Mental Health First Aid) that provide people with the resources they need to create "more positive environments" and "kinder communities," both online and IRL.
Of course, for anyone experiencing their own mental health struggles, it's always in your best interest to speak with a mental health professional about what you're going through. This initiative is meant to be a supplement rather than a substitute for any direct medical or psychological treatment.
But the goal of creating kinder, more supportive community is always a welcome endeavor, and frankly, we could all use a little bit of universal love right now, don't you think? If you're interested in getting involved in #BeKindBeTheDifference, you can take the pledge here.