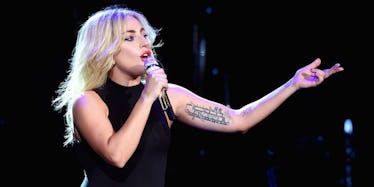 Lady Gaga Postpones 'Joanne' World Tour With Emotional Post About Her Health
Kevin Winter/Getty Images
Lady Gaga announced she's postponing the rest of the Joanne World Tour in an emotional Instagram post. Early this morning, Sept. 18, Gaga took to Instagram to explain her current health struggles and why the tour needs to pause for a bit. An accompanying press release says she will be taking seven weeks off to focus on her health. So why did Lady Gaga postpone her Joanne World Tour? Her Instagram post says,
I have always been honest about my physical and mental health struggles. Searching for years to get to the bottom of them. It is complicated and difficult to explain, and we are trying to figure it out. As I get stronger and when I feel ready, I will tell my story in more depth, and plan to take this on strongly so I can not only raise awareness, but expand research for others who suffer as I do, so I can help make a difference. I use the word "suffer" not for pity, or attention, and have been disappointed to see people online suggest that I'm being dramatic, making this up, or playing the victim to get out of touring. If you knew me, you would know this couldn't be further from the truth. I'm a fighter. I use the word suffer not only because trauma and chronic pain have changed my life, but because they are keeping me from living a normal life. They are also keeping me from what I love the most in the world: performing for my fans. I am looking forward to touring again soon, but I have to be with my doctors right now so I can be strong and perform for you all for the next 60 years or more. I love you so much.
Even though it's undoubtedly disappointing for fans who had tickets to these upcoming shows, Gaga does need to put her health first. The singer revealed last week on Twitter that she has fibromyalgia, a chronic pain disorder that causes pain and tenderness in the muscles, ligaments, and tendons. Although she does not mention the fibromyalgia in her post from this morning, she does refer to suffering from "severe pain" in the post. Based on her tweet from last week, fibromyalgia is likely what she is referring to.
In the trailer for the upcoming documentary about her life and career, Gaga: Five Foot Two, footage showed her in a doctor's office, and she seemed to be in a lot of pain. She revealed last week that she was being treated for fibromyalgia in the trailer. Gaga said in a tweet from Sept. 12, "In our documentary the #chronicillness #chronicpain I deal w/ is #Fibromyaliga I wish to help raise awareness & connect people who have it."
Gaga has been really vocal about her health struggles since the Gaga: Five Foot Two trailer was released. Before she postponed the entire Joanne World Tour, she canceled and rescheduled  her performance in the Rock in Rio event three days ago, telling fans that she was hospitalized for "severe pain." Her Instagram from Sept. 15 said,
I was taken to the hospital, it is not simply hip pain or wear and tear from the road, I am in severe pain. But am in good hands w/ the very best doctors. Please don't forget my love for you. Remember years ago when I tattooed Rio on my neck, the tattoo was written by children in the favelas. RIO You hold a special place in my heart I love you.
She wrote another note to her fans in Rio saying,
Brazil, I'm devastated that I'm not well enough to come to Rock In Rio. I would do anything 4 u but I have to take care of my body right now. I ask for your grace and understanding, and promise that I will come back and perform for you soon. I'm so sorry, and I love you so much.
The Joanne World Tour will hit the road again in early 2018.