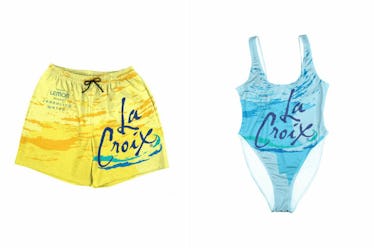 These LaCroix Swimsuits & Trunks Will Turn You Into A Literal Thirst Trap
If wearing your brand love on your literal sleeve is something you love, I've got a new summer wardrobe addition for you. To be clear, I'm not talking about an LV branded tee or an Off-White emblazoned hoodie. I'm talking about LaCroix swimsuits which, thanks to two beverage-obsessed designers, now exist. Because who doesn't want to look like their favorite flavored fizzy drink at the beach, at the pool, and beyond?
I've only tried LaCroix a couple of times (I can actually only ever remember drinking it twice) but I see the appeal. Clearly I didn't get hooked on the stuff like some people do, but its fruity flavors and thirst quenching bubbles are admittedly delicious. The drink comes in a slew of flavors, from Passionfruit and Cerise Limón to Cran-Raspberry and Melón Pomelo (even though the brand originated in Wisconsin the beverage names are très française — chic!), so no matter your palette, there's bound to be one for you.
Over the past five or so years LaCroix has become somewhat of a pop culture trend thanks to its championing by celebrities, influencers, and basically anyone who knows what's "in." For example, in 2015, LaCroix was "personally invited by Jeremy Scott of Moschino to be the only sparkling water at his exclusive poolside shindig" during Coachella, according to the brand's website. And as Bon Appetit wrote in 2017, "If you live in America or have any exposure to social media, you've witnessed the juggernaut that is LaCroix sparkling water. You've heard its praises sung by paleo bloggers, #Whole30 devotees, fashion designers, and late-night TV hosts." In short, it is to the trendy beverage world what kale, sprouts, and quinoa have all been to the health food world. But its reign is lasting.
And now, swimsuits emblazoned with the LaCroix logo are here to ensure the drink never goes out of style. Los Angeles-based designers Eric Wu and Tammy Chow launched a range of one-pieces and swim trunks on their website, Public Space, and as absolutely as ridiculous as it may seem, they are actually kind of cool? Both styles are available in five color ways-slash-flavors including Pamplemousse, Lime, Passionfruit, Pure, Raspberry, and Lemon, and feature the same '80s-inspired look as the original cans.
Their price tags, however, are a far cry from the $3.69 it'll cost you to buy an eight-pack of the beverage at Target, though each piece is still relatively affordable. The swim trunks will run you $39.50, while the one-piece swimsuits are going for $49.50. Also for sale on Wu's website are Fiji water swim shorts — clearly this guy is tapping into a niche market.
In a post announcing the LaCroix collection on the Public Space Instagram account, the caption reads, "introducing l a c r o i x swim trunks and one-pieces to keep you sparkling at pool parties this summer like it's 1997. order by 05/17 to receive by memorial day 05/28!" May 17 is tomorrow so if you're wanting to rock one of the swimsuits over the upcoming long weekend, get on your order! The one-pieces range from size XXS to 2XL, while the trunks range from size 28 to 40. Seeing as one-pieces are probably the biggest swim trend of 2018 (complete with cutouts, ruffles, crazy patterns, and more), you won't want to sleep on this kitschy new style.
As an added bonus, all of the suits are made 100 percent by hand locally in Los Angeles, California, meaning by shopping them you'll be supporting eco-friendly and ethical fashion. You'll also be supporting a small business, and that's sweeter than any flavor of LaCroix ever could be.