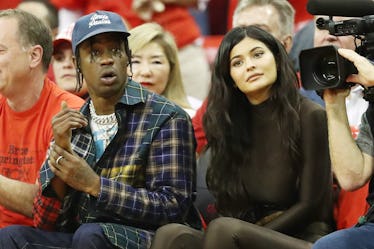 Kylie Jenner Just Responded To That Travis Scott Cheating Prank With Such A Mature Message
Ronald Martinez/Getty Images Entertainment/Getty Images
Wow, wow, wow. I am constantly reminded how truly terrifying, dysfunctional, and totally bizarre the internet can be, like, at all times. Take the recent Travis Scott cheating scandal, for example. Fans now know it was an entirely staged prank orchestrated by a Bahama native named Christian Adam who looks very, very similar to Scott. However, that doesn't mean it didn't rock fans' (and Jenner and Scott's) world, first. Kylie Jenner's reaction to the Travis Scott cheating prank is so mature and a great lesson in keeping your cool.
In early December, a photograph of the Scott-look-alike began swirling Instagram. In the image, Adam dressed up exactly like Scott and leaned against a woman who is notably not Kylie Jenner. He then edited the image to look like it could have been released by TMZ, who had no knowledge of the prank. Of course, people went wild speculating if it was real or fake, and the rumor rang out so loud that Scott and Jenner both caught wind of it.
Scott responded to the spoof first. He actually commented on the fake post directly on Instagram writing, "Try again u trollsssss. Me and my wifey sturdy. Back to celebrateing !!!" He later shared a similar message in his stories where he said, "Trolls always wanna create some fake sh*t to destroy real love. GOING OVER BOARD TO MAKE SH*T LOOK LIKE IS NOT IS EVIL."
On Wednesday, Dec. 5, Adam uploaded a 17-minute video to YouTube explaining exactly how he set up the prank, claiming he was inspired by Yes Theory, a group of guys who create pranks and perform video challenges designed to "challenge themselves and strangers." (They are also the group behind the viral fake image of Justin Bieber eating a burrito.)
Adam says he was inspired by the burrito set-up in particular, and knew he looked similar to Scott. In a nutshell, he wanted to see if he could fool the internet into believing a celebrity was doing something they weren't, too. Adam explained,
That photo that you see of Travis Scott allegedly cheating on his significant other Kylie Jenner was completely staged. The goal of this video is not to hurt anybody's relationship, but it's to see how gullible is the internet. The question is: do the internet even care about the truth sometimes?
Weirdly, after proclaiming Scott is one of his favorite artists, Adam called up a friend telling her he had "amazing news" which was that Scott had responded to the photo directly. He seems to be unbothered that Scott's response was outrage.
(Hot-tip, readers: Pranks that are designed to sabotage a growing family suck.)
That said, Jenner and her sisters also responded to the lie. Jenner took a screenshot of the video and wrote the following note in a since-deleted Instagram story:
Idk if this is really a social experiment to some people but you're messing with real people, real relationships, real family. I'm happy my relationship is strong because this is getting out of hand. The internet scares me sometimes for real.
Preach, Kylie.
Big sisters Kim and Khloé also tweeted about the drama. Kim wrote, "I hate that I am bringing attention to this but this is absolutely disgusting that you would find this funny to mess with Travis & Kylie who just started a family together. This is really damaging to relationships, families and is just so wrong!"
Khloé, who is famously living through her own cheating scandal with her boyfriend Tristan Thompson, added, "People are absolutely disgusting! The mind games this would do to somebody… That is so completely not OK! This person should be so ashamed of themselves! What filth."
Meanwhile, Scott and Jenner continue to happily tour the nation on his Astroworld Tour with baby Stormi in tow.
Chill out, internet and haters. Nothing to see here.