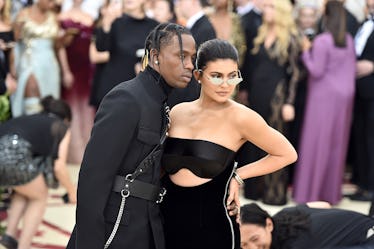 Travis Scott Just Shut Down Rumors He Cheated On Kylie Jenner With The Most Epic Clapback
Theo Wargo/Getty Images Entertainment/Getty Images
Travis Scott would like to make one thing explicitly clear to all of his fans and haters out there. He did not cheat on Kylie Jenner, so stop it. Rumors are swirling about the Astroworld rapper thanks to a suspicious photo that looks like it could be Scott getting up close and personal with another woman. However, Scott kindly says, "hell no." Travis Scott's response to rumors he cheated on Kylie Jenner is an epic clapback and fans are here for it. If Scott hadn't earned his Kardashian stripes before, he sure has now.
Here's the deal. Stick with me.
On Monday, Dec. 3, a photo began circulating on Instagram of someone who looks incredibly similar to Scott and an unidentified female getting cozy on a balcony. Real talk — it does look a lot like him. That said, the image is definitely grainy and it's impossible to make out the man or woman's face. It also looks like there is a partial TMZ watermark across the photo, though TMZ never released the image themselves. The person who posted the photo captioned it, "Nobody likes me but yo baby daddy keeps me icy," leading followers to believe the account holder is also the woman in the photo.
OK.
So.
Apparently, Scott caught wind of the photo and it upset him so much he directly commented on the picture itself. The Instagram account @commentsbycelebs shared a screenshot of Scott's response which stated (along with many, many curse words), "TMZ ain't post sh*t. Trolls working hard today. I don't be on balcony wit no thots... Try again u trollsssss. Me and my wifey sturdy. Back to celebrateing !!!"
He then added, "Only got love for my wife. No time wasting. Try again."
And, his commentary didn't stop there.
Scott was so irritated by the rumor, he jumped on his own Instagram stories to keep his clapback going. He crafted the message:
Trolls always wanna create some fake sh*t to destroy real love. GOING OVER BOARD TO MAKE SH*T LOOK LIKE IS NOT IS EVIL. I hate acknowledging sh*t. But quit try to take joy from sh*t that's good. I pray god blocks out all evil.... BACK TO CELEBRATING !!!!
Literally, take that, haters.
Fans on Twitter are busy trying to get to the bottom of the photo. Some people think it is Scott but the picture must be from an upcoming music video. Others think it could simply be the Instagram account holder's boyfriend.
Meanwhile, Jenner and Scott are busy throwing around the words "wifey" and "hubby" as if they're married or something. In fact, in the immediate aftermath of the cheating rumor, Jenner jumped on her own Instagram stories to send out her own message to anyone doubting her relationship. She posted a romantic photo of herself and Travis Scott with a giant engagement ring emoji floating above their heads.
Like, hello?
Back in the summer, a source told E! News, "Kylie and Travis have definitely discussed getting married and she has expressed what type of ring she would want Travis to buy her. It would definitely be over the top. They are not engaged right now but have talked about it, and it's only a matter of time."
Perhaps the time is... now?