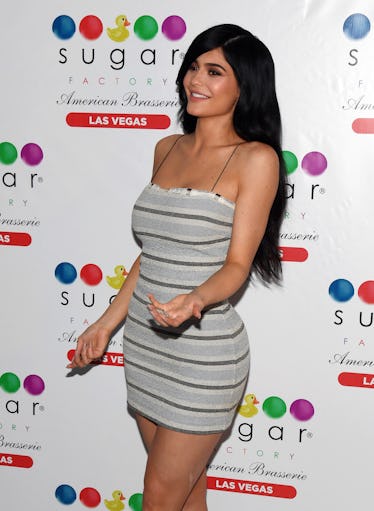 Kylie Jenner's First Appearance After Giving Birth Was Classic Kylie
Ethan Miller/Getty Images Entertainment/Getty Images
Is it absolutely bonkers that I haven't taken a single breath since Kylie Jenner gave birth? JK, don't answer that. It was a rhetorical question, and I really don't care about your answer. Anyway, on Sunday, Feb. 4, 2018, Kylie Jenner finally quenched all of our thirsts for a pregnancy confirmation by confirming via Instagram, not only that she had been pregnant this entire time, but that she had ALREADY GIVEN BIRTH. Kylie, what? I thought we had something. IDK, I just thought you would text me or something. Ugh, whatever. Kylie Jenner made her first appearance since giving birth to a beautiful baby girl, and let me tell you: MOMMA'S LOOKIN' FRESH AF.
Kylie was pictured out in Calabasas on Sunday, Feb. 11, with her best friend Jordyn Woods, according to TMZ. Per TMZ, they were headed to a meeting in Los Angeles. She was wearing black shorts, a white jacket, and what looks like a fanny pack, and I would just like to know how she looks more rested after having a baby and caring for a newborn than I do when I sleep for 18 hours straight. What's your secret, Kylie? Oh, a solid sleep and skin care regimen that you stick to no matter what? Got it. Guess there's no hope for me then.
But enough about me, back to Kylie and her mysterious pregnancy that is no longer a mystery. Rumors about a possible Kylie pregnancy first started swirling way back in Sep. 2017, when we were all approximately 50 years younger. Then, cue: literal radio silence from any Kardashian/Jenner about Kylie's pregnancy. Seriously, it was like being in a desert for months without water. I love a good puzzle, but for Christ's sake, that mystery haunted me more than all my middle school years combined.
Then, finally, fans everywhere (read: I) saw the light at the end of the tunnel. On Sunday, Feb. 4, 2018, Kylie Jenner confirmed her own pregnancy via Instagram, stating that she had given birth to a healthy baby girl earlier on Thursday, Feb. 1, 2018. In her first text post, Kylie shared the emotional announcement, giving fans some insight into why she lay low for so long.
In a subsequent Instagram post, Kylie shared a small clip of a much longer video, which she posted on YouTube. In that video, fans are taken along on a journey of Kylie Jenner's life she'd kept under lock and key for the last nine months. At the beginning of the video, we see Kris Jenner during Kylie's own birth (yes, way back in 1997). We're then graced with interviews from Kylie's best friend Jordyn Woods, throwback pictures and adorable videos of Kylie and her boyfriend and baby's father, Travis Scott. We also see an inside look at the birth of Kim Kardashian and Kanye West's third child, Chicago West. And finally, an emotional end to a video that already drowned me in my own tears, we see the tiniest glimpse of Kylie's own newborn.
Seriously, did you see the baby? Did you see her arm? That's literally the cutest arm I've ever seen in my life, don't even try to fight me on that, because you're wrong by default.
If two new Kardashian-Jenner babies aren't enough to satisfy your thirst for a growing Kardashian empire (because same), don't fret. Khloé Kardashian is expecting a child of her own in the coming months. In Dec. 2017, she confirmed her pregnancy with boyfriend Tristan Thompson in the sweetest Instagram post. I swear to God, will I ever stop crying over the Kardashians? The answer is no. Anyway, Khloe's post read:
My greatest dream realized! We are having a baby! I had been waiting and wondering but God had a plan all along. He knew what He was doing. I simply had to trust in Him and be patient. I still at times can't believe that our love created life! Tristan, thank you for loving me the way that you do! Thank you for treating me like a Queen! Thank you for making me feel beautiful at all stages! Tristan, most of all, Thank you for making me a MOMMY!!! You have made this experience even more magical than I could have envisioned! I will never forget how wonderful you've been to me during this time! Thank you for making me so happy my love! Thank you to everyone for the love and positive vibes! I know we've been keeping this quiet but we wanted to enjoy this between our family and close friends as long as we could privately. To enjoy our first precious moments just us ❤️ Thank you all for understanding. I am so thankful, excited, nervous, eager, overjoyed and scared all in one! But it's the best bundle of feelings I've ever felt in my life! ❤️❤️❤️
Congratulations to literally every Kardashian-Jenner out there. You're all beautiful, and your babies even more so. Now, BRB, finishing my application to be a babysitter for all of the Kardashians. References available upon request.