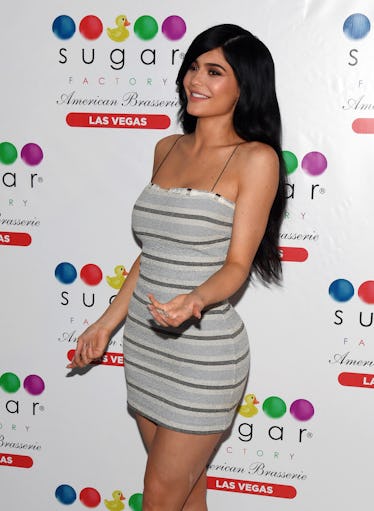 Kylie Jenner Just Posted The Cutest Matching "BFF" Instagram With Stormi
Ethan Miller/Getty Images Entertainment/Getty Images
Every time a girl says that her mom is her best friend, I get the warm fuzzies inside. And it's just as adorable when a mom (particularly a new mom) does the same. Which is why Kylie Jenner's BFFs Instagram with Stormi is just so darn cute. I can't handle this.
The new mom has been gracing us with plenty of pictures of her littlest addition via social media, but this one has me right in the feels because of both the framing and the caption. The photo shows both Jenner and Stormi from the waist down, sitting on patio furniture. Jenner's wearing white track pants and Chanel sandals, with one foot (with a matching white pedicure) propped up on the table. In her lap, little Stormi is also wearing all white, dressed in a fresh onesie and — get this — tiny white high-top Nike sneakers. There is seriously nothing cuter than tiny baby shoes. Did I say I couldn't handle it before? Because this is putting me over the edge.
But what really launches this one out of the ballpark is the caption — Jenner posted the snapshot with a simple, "BFF." Momma and daughter, besties forever, wearing matching outfits. It really doesn't get any better than this.
I for one am simply thrilled that Jenner's gotten past her pregnancy / new mom social media blackout. Since little Stormi appeared in the world in early February, we've gotten plenty of pics of the little girl, from her chubby cheeks to her chubby toes and all the adorableness in between. For awhile there I was worried, as during her pregnancy, Jenner went pretty notably low-key on social media for awhile. For a couple of months she was posting mainly throwback pics, or photos of her from the neck up, or, if it had to be a full-body shot, wearing super baggy clothes. Basically, it was driving us all nuts as we tried to figure out whether or not she was really pregnant.
Then on Feb. 4, she confirmed that yes, she was a new momma, in an Instagram post that both announced her pregnancy and announced her daughter in one fell swoop. She wrote,
I'm sorry for keeping you in the dark through all the assumptions. I understand you're used to me bringing you along on all my journeys. My pregnancy was one I chose not to do in front of the world. I knew for myself I needed to prepare for this role of a lifetime in the most positive, stress free, and healthy way I knew how. There was no gotcha moment, no big paid reveal I had planned. I knew my baby would feel every stress and every emotion so I chose to do it this way for my little life and our happiness. Pregnancy has been the most beautiful, empowering, and life-changing experience I've had in my entire life and I'm actually going to miss it. I appreciate my friends and especially my family for helping me make this special moment as private as we could. My beautiful and healthy baby girl arrived February 1st and I just couldn't wait to share this blessing. I've never felt love and happiness like this I could burst! Thank you for understanding.
I mean, yeah, I get it, and I totally understand — every mom has the right to experience motherhood in the way she wants. But our appetites for cute baby photos had only been whetted. We needed more cute.
Thankfully, we have plenty of cute to choose from, as little Stormi has two Kardashian Kousins within only a few months of her age to hang out with. In mid-January Stormi's aunt Kim Kardashian announced that she and husband Kanye West had just had their third child, Chicago West, via a surrogate. And a few months later, her other aunt, Khloé Kardashian, also announced the birth of her little girl, True Thompson. So if you're keeping up at home, that's three little Kardashian-Jenner babies who are all within three months of each other's ages. Man, three years from now Calabasas, California is going to have the trendiest, most stylish Pre-K class the world has ever seen.
And if Jenner's most recent photo is anything to go by, they will, of course, be impeccably coordinated too. But then again, did anyone ever expect anything else?