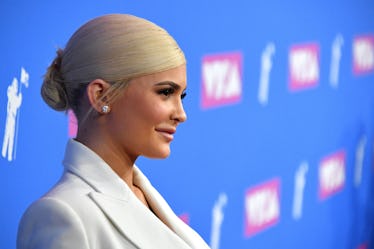 Kylie Jenner Has The "Baby Shark" Song Stuck In Her Head Too, So Stars Are Just Like Us
Dia Dipasupil/Getty Images Entertainment/Getty Images
From where I'm standing, there is one, great, unifying equalizer amongst all parents everywhere. It's called "Baby Shark," and it is a children's singalong YouTube video featuring two toddlers, some animated sharks, and a catchy if not very obnoxious melody. As of Sept. 6, it has over 1.6 billion views, and at least one of those views is from Kylie Jenner. The 21-year-old new mom paid homage to the phenomenon with a recent Instagram caption, proving she's just like at least 1,599,999,999 other parents out there. Kylie Jenner's "Baby Shark" photo caption probably accompanies a totally different kind of picture than your average mom or dad might post, but that's besides the point.
In a nutshell, here's how the song goes: "Baby shark! Doo-doo-doo-doo. Mama shark! Doo-doo-doo-doo! Dada shark!..." and so on so forth through Grandma shark and Grandpa shark. There's a small twist at the end of the video where the kids run away from the animated sharks and hide in a piece of coral or something. But, from what I can tell, it's basically a small tune designed to help kids learn family trees in a fun, stimulating way. In fact, many of the colors used in the video are bright neon, much like the dress Kylie Jenner is wearing in her Instagram photo.
If you don't want to get the song stuck in your head, you can watch it on mute with subtitles to get the idea. Otherwise, have at it:
The photo Jenner captioned with "Baby Shark" lyrics doesn't feature her baby Stormi or a shark, but she does look totally fierce. (See what I did there? Sharks? Fierce? It's a nature joke. You guys get it.)
Here's the picture which she captioned: "maaamaa shark dooo doo doo dooo."
If you're still not convinced the words aren't that popular of a reference, let me show you exhibit A and B. One is a comment from Jenner's older sister Khloé Kardashian, who also recently became a new mom to her own daughter, True Thompson. Kardashian commented on Jenner's picture, "Omg yes!!!! Baaaaaby shark!!!!! Dooo Dooooo. Wow we really are moms aren't we?!?!"
Now, a skeptic might say that it makes sense for both Kardashian and Jenner to have seen the same video considering they became moms at the same time and might swap baby stuff. But, what if I told you CARDI B IS IN THE MIX, TOO. NOW WHAT?!
Cardi B also just delivered her first baby with husband Offset, a daughter named Kulture Kiari Cephus. The "Bodak Yellow" rapper is clearly in on the "Baby Shark" party, because she tweeted some of the song's lyrics only a few days before Jenner posted her Instagram caption! Out of the blue, Cardi B shared the following Tweet:
Of course, Cardi B made her own twist on the classic song, and changed the "doo-doos" to "tuturs," but that's fine.
I'm sad the song is now stuck in my head for the rest of my life, but thankful I'll know where to turn when I become a mom someday. Thanks "Baby Shark" creators, doo doo doo doo.