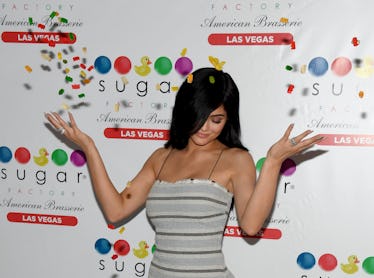 Kylie Jenner Said She's Thankful For Her "Babies" & Fans Can't Handle The Trolling
Ethan Miller/Getty Images Entertainment/Getty Images
Thanksgiving is a time to be with your family and friends, and give thanks for all the good things you have in your life. But in Kylie Jenner's case, it's also the prime time to tease (or is it torture?) her fans, who are patiently waiting for the star to confirm her alleged pregnancy. Case in point: Kylie Jenner's "babies" app post has her following in an uproar.
According to Seventeen, the youngest Kardashian/Jenner sister shared what she's thankful for on her Kylie app. Jenner really must have put some genuine time and thought into her list, because she broke it down into four categories: her family, her friends, her company (Kylie Cosmetics), and her "little babies." Umm, little babies? Does this mean the makeup mogul is having twins?
Jenner began her reflection of thanks by saying:
I have SO many things to be grateful for this year! I know I'm one lucky girl. With Thanksgiving coming up this week, I'm reflecting on it all and anticipating everything next year will bring.
"Anticipating everything next year will bring" is the closest thing to a pregnancy confirmation the cryptic star has said thus far. And when she followed up that introduction by expressing gratitude for her "little babies," fans thought they'd finally secured their white whale. But in actuality, the animal lover is referring to her four fur babies: "They may drive me crazy sometimes, but Normie, Bambi, Harlie, and Rosie…I love you!!!"
Dang. For a split-second, I actually thought that Jenner confirmed the pregnancy rumors that have been swirling about since September, but alas, she was just giving her pooches some major props. Kylizzle sure likes to tease, huh?
Jenner also expressed gratitude for her tight-knit, ride-or-die family. "Where would I be without my mom, dad, sisters, and brother? I love you guys unconditionally," she wrote in her app post. And she didn't stop there: According to People, Jenner hosted Thanksgiving dinner at her Calabasas home. In attendance were mom Kris Jenner; sisters Kendall Jenner, Kim and Kourtney Kardashian; and her brother Rob Kardashian. So basically, everyone was there besides Khloé, who was in Cleveland hosting her own Thanksgiving with Tristan Thompson.
Kourtney shared these gorgeous photos of the pink-hued Thanksgiving table.
From the ombre pink seats to the butterfly artwork, the spread epitomizes elegance. Jenner went all out when it came to the turkey day eats, too. Some of her fall-themed treats included orange-and-yellow-frosted donuts, chocolate covered pretzels, pumpkin cake pops, and gingerbread whoopie pies.
Here, the dessert table of your Thanksgiving dreams.
You've hit ultimate hostess status when you make turkeys out of frosting.
Those cake pops are (almost) too pretty to eat.
From the looks of it, Jenner had everyone's sweet tooth on lock, but the main course was also everything you'd want and more. From a snap shared by big sis Kendall, Kylie served up all the Thanksgiving classics: turkey, stuffing, cranberries, mashed potatoes, and macaroni and cheese.
This plate may induce some major FOMO.
While most of the Kardashian-Jenner clan was in attendance, it's not clear whether or not Kourtney's ex (and father of her three children) Scott Disick was also there.
Disick did take to his Instagram to share a heart-warming clip from Keeping Up With The Kardashians. In it, youngest son Reign asks to be held by Disick and then sweetly says, "Thank you, dad" He captioned it with, "This is why I'm thankful today."
Watch the sweet clip below.
Disick wasn't the only one in thankful mood. Kourtney also shared photo of two of the pair's children, Reign and Penelope, simply captioning it with, "Very thankful."
A sun-soaked snap of the Kourtney's youngest two children.
While there weren't any photos of Kourtney and Disick's eldest son Mason, it's probably safe to say that they're very thankful for him as well. Even though Kourtney and Disick are no longer a couple, the two have tried to remain cordial in order to raised their three kids together. If you were holding out for a reunion, you might not want to hold your breath. Disick has been coupled-up with Sofia Richie lately, and Kourtney has been cozy with model Younes Bendjima.
As always, it can be tough to keep up with this brood, but thanks to Jenner's hosting skills, most of the family was able to get together and enjoy each other's company this Thanksgiving. Since there was no word on the alleged pregnancy (womp, womp), you may want to go ahead and put "Kylie confirms baby rumors" back on your Christmas wishlist.
Check out the entire Gen Why series and other videos on Facebook and the Bustle app across Apple TV, Roku, and Amazon Fire TV.