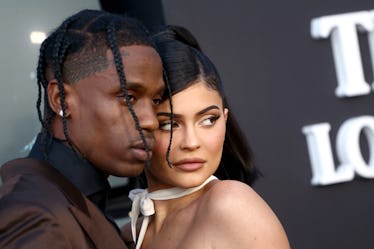 Kylie & Travis' Social Media Interactions Are So Bittersweet Now
Tommaso Boddi/Getty Images Entertainment/Getty Images
Celebrity relationships and friendships are a rare breed. These famous faces have their lives played out in front of the masses, whether it's the good, the bad, or the straight-up shady. In Elite Daily's new series, It's Complicated, we're highlighting the biggest celebrity "feuds" that took over Hollywood and dominated our Sunday brunches for weeks on end. We'll take a deep dive into the lives and social media feeds of our favorite stars and dissect what happened in front of the camera, what went down behind the scenes, and everything you might have missed in between.
There's no doubt dating in the digital age makes just about everything more complicated, but it's time to face the facts: Social media rules our world. For celebrities, that means their personal lives are continuously plastered across the internet. When it comes to a mega-famous couple like Kylie Jenner and Travis Scott, fans are watching their every move (aka, social media post) like hawks. That's why Kylie Jenner and Travis Scott's social media interactions are the talk of the town... and that town is Hollywood.
It goes without saying fans were shook when reports of Jenner and Scott's breakup first surfaced on Oct. 1, only to be confirmed by Jenner in a tweet two days later.
With every breakup comes the aftermath, which often ends up splayed across social media. The couple's eagle-eyed fans never miss a moment of romance, relationship woes, or the occasional salty comment. So join me in diving into the complicated romance saga of Jenner and Scott.