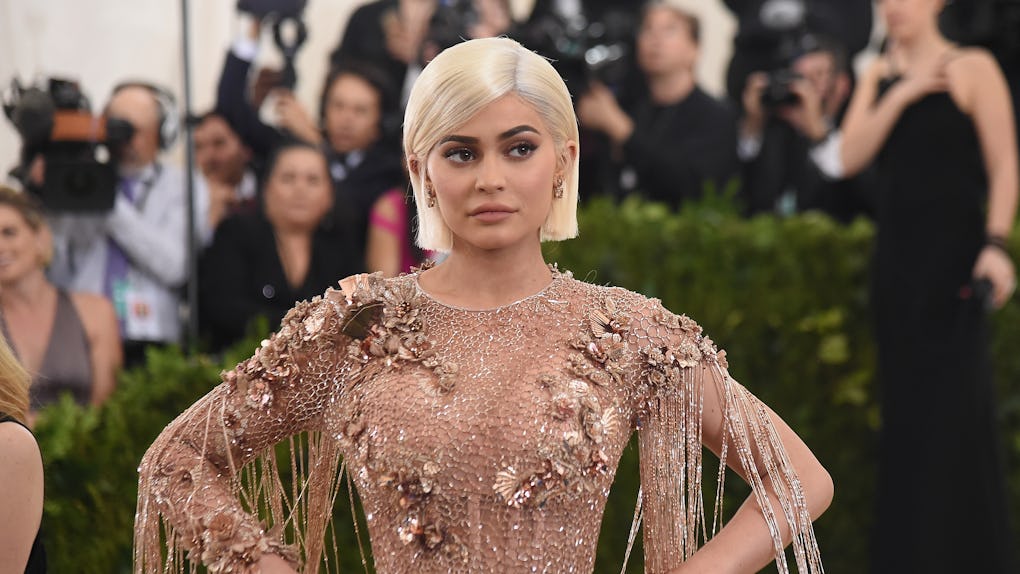 Nicholas Hunt/Getty Images Entertainment/Getty Images
Kylie Jenner Responds To Backlash About The Price Of Her Makeup Brushes On Twitter
It looked like it was going to be a very merry Christmas for Kylie Jenner last month when she launched her glittery, annual Holiday Collection. Fans didn't think twice before scooping up $44 Naughty and Nice eye shadow palettes, $62 Kylighter kits, and the $250 bundle of every single limited edition item. But apparently, the beauty guru's devotees do draw the line somewhere when it comes to dropping the big bucks. And after being taken to task on Twitter, Jenner has responded to the backlash about the cost of her Kylie Cosmetic brushes.
The whole thing started back on Dec. 7, when Kylie Cosmetics announced the drop of a Silver Series of luxury makeup brushes. Pretty cool, right? I mean, the collection features everything from a large powder brush and a tapered blending brush, to a angled face brush and a medium stippling brush (whatever that is).
But while the announcement should have come as seriously welcome news for a fan base that basically can't wait to cop every new release the reportedly preggers youngest Jenner sib puts up for sale, the innate dopeness of the brush line was quickly overshadowed (pun not intended but it's a good one so just go with it) by the news that scoring all 16 tools will set you back a cool $360.
Wait, what? I'm no Scrooge, but that's a seriously steep price tag for something not stamped with the word "Yeezy". And Kylie's fans quickly started slamming her for it over on Twitter.
"Kylie Jenner is trying to sell makeup brushes that cost more than my car payment," wrote one user.
"Good morning to everyone except Kylie Jenner, who thinks it's okay to sell 15 makeup brushes for $360 and not tell us if she's pregnant or not," tweeted another.
"I just want everyone to know you can literally buy the new Apple Watch series 3 gps for less than what Kylie is selling her makeup brushes for," added a third.
And then there was this little gem, from a fourth:
Touché, Ms. Kringle. We see your point.
The backlash eventually got so heated, that Jenner — who is clearly taking her lead from the nip-this-thing-in-the-bud-ASAP way Kim K expertly handled those blackface allegations over the summer — turned up on Twitter to defend herself.
"I have developed for you guys the most amazing luxury brushes ever," she explained. "I am very excited! Real brushes don't compare to synthetic brushes. Different performance/quality/everything. I am 100% down to do an entire synthetic line in the future which will ultimately be cheaper."
Are we 100 percent down with this weirdly worded response? Not really. But we do like the idea of a cheaper synthetic brush line being rolled out one day. Plus, Jenner added a second tweet, assuring her fans that she always fights for the lowest prices on her products. Of course, she then went and compared her set to similarly-priced versions from established brands like Kevin Aucoin, MAC, and Artis, which only pissed her followers off even more.
"Would I pay $40 for a Kylie Jenner brush? No," wrote one. "Would I pay $40 for a Mac brush? Yes. I own 6 Mac brushes. The audacity to slap price tags on some mediocre brushes comparing them to makeup lines like Mac that been years into the game."
I totally get where this tweeter is coming from. But is the amount of time a company is in business really indicative of the worth of its products? I'm not so sure. Then again, you do have to know your audience — something Jenner finally seemed to understand when she added a third and final tweet to clarify that she really does have her fans best interests at heart.
Way to go, girl! Peace on Earth, right? We love that Jenner is hearing what her fanbase has to say. Of course, whether or not this will be enough to get them to drop $360 when the brushes finally go live for sale on Dec. 13 remains to be seen. I, for one, will not be setting a reminder on my phone this time around. But if a couple of these bad boys just happened to show up in my stocking on Christmas morning? Well, then, I'd be 100 percent down.