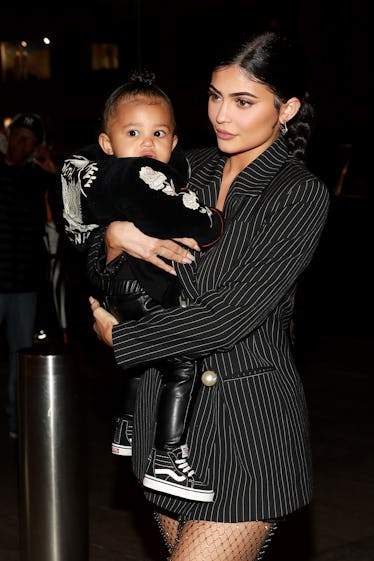 Kylie Cosmetics' Valentine's Day Line Is Coming & It Seems Stormi Plays A Huge Part
Pierre Suu/GC Images/Getty Images
They say parenthood is the purest love you'll ever know, so what better way to celebrate the holiday intended to honor love than by creating an entire makeup collection dedicated to your child? OK, maybe that's not every parent's Valentine's Day plan, but it's seemingly Kylie Jenner's, as the Kylie Cosmetics Valentine's Day 2020 Collection looks like it's going to be all about Stormi. And the glimpse of the collection proves that it's going to be almost as adorable as she is, too.
On Thursday, Jan. 2, Jenner posted an Instagram of Stormi looking over documents that included a mock-up of makeup packaging with Stormi's name on it, color swatches, and the words "Kylie Cosmetics Valentines [sic] Day Collection 2020." Jenner captioned the post, "coming soon..." The Kylie Cosmetics Instagram account followed up by posting the same image with the caption, "First collaboration of 2020 coming soon." So basically, before she even turns 2, Stormi is the next person in line for a Kylie Cosmetics makeup deal.
On Feb. 1, Stormi will celebrate her second birthday just two weeks before Valentine's Day, and considering her mom drops a new collection for just about every holiday, the timing makes perfect sense. Happy birthday and Valentine's Day, Stormi; you get your very own makeup collection!
Stormi joins the likes of her grandma Kris and aunts Kourtney, Khloé, and Kim as the next family member to collaborate on a Kylie Cosmetics collection. The only difference is the rest of the family's collections came after they had already established their careers, while Stormi's collection comes before she's even able to form full sentences. But when your makeup mogul mom became the youngest "self-made" billionaire at 21 years old, I guess you can say it's in your DNA to start young.
A closer look at Jenner's Instagram shows what we can expect from the mother-daughter duo. It looks like there will be a six-pan, peach-themed eyeshadow palette; a mauve purple Lip Kit; and what could be purple, blue, and green lip colors, potentially in both solid and shimmer finishes. And that's just what I can see in the image. Most of Jenner's collections feature upwards of 10 products, so this collection will likely have the same.
The makeup mogul is known for doing a full reveal of her collections before they drop via Instagram Stories, so you'll have to stay tuned to her social media in the coming weeks to get a peek at Stormi's line. They say the devil works hard, but Kris Jenner works harder. And while that might be true, if I were Kris, I'd be worried about 2-year-old Stormi coming for her throne.