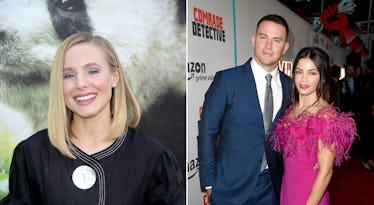 Here's What Kristen Bell Has To Say About Channing Tatum & Jenna Dewan's Split
Kevin Winter/Getty Images Entertainment/Getty Images
After 24 years of living on this planet, you would think that I would have developed some thicker skin when it comes to the seemingly never-ending stream of celebrity splits. But the fact of the matter is, every time one of my favorite couples break up, I get devastated all over again. Most recently, Channing Tatum and Jenna Dewan's split truly has me in mourning. I mean, seriously, how am I supposed to believe in love if those two can't make it!? Luckily, Kristen Bell's thoughts on Channing Tatum and Jenna Dewan's split have finally given me some much-needed solace.
Before we get into Bell's words of wisdom, let me give you some background on what's going on. Exactly one week ago, Channing and Jenna announced some truly heart-wrenching news: They're calling it quits on their marriage after almost nine years. They both took to social media to post the following statement:
We have lovingly chosen to separate as a couple. We fell deeply in love so many years ago and have had a magical journey together. Absolutely nothing has changed about how much we love one another, but love is a beautiful adventure that is taking us on different paths for now. There are no secrets nor salacious events at the root of our decision — just two best-friends realizing it's time to take some space and help each other live the most joyous, fulfilled lives as possible. We are still a family and will always be loving dedicated parents to Everly. We won't be commenting beyond this, and we thank you all in advance for respecting our family's privacy.
For anyone who's ever watched Step Up or stalked Tatum's Instagram, this comes as a huge shock. BTW, I only mention his Instagram because that's where he posts pictures like this:
...with captions like this:
@jennaldewan I'm not sure if this woman is my Rainbow or my pot of gold but I'm lucky either way happy birthday cake baby!
So, yeah, for all intents and purposes, it looked like this couple was totally in love and bound to stay together forever. Needless to say, the news of their split was nothing short of devastating for most fans.
But actress Kristen Bell has a different outlook on things. In an interview with E! while at an event in support of This Bar Saves Lives, Bell explained that eventually ending your relationship doesn't necessarily mean you didn't truly love each other:
It's OK to feel like, I went through 10 years with you, I love you and now I feel like I want something different and so do you. Like it doesn't have to be a heartbreak, I guess is what I mean. It could actually be the healthiest thing for both individuals to thrive and it could also be the best example for your kids.
Bell also wisely explained that, when we put celebrity relationships on a pedestal, we don't realize that we may not be getting "the whole picture." "Like those two, that may be a better path for both of them, and they're both lovely people, and they're still friends, and that's OK," she continued.
Don't you just feel like she dabbed some soothing aloe on the scorching burn that's been setting your heart on fire after hearing the news? I know I do. And I have even more good news! While Tatum and Dewan may not be together anymore, Bell made it clear that her relationship with her husband Dax Shepard isn't ending any time soon:
We're in too deep and I like him too much. Even when he's annoying I really like him. I'm still like, 'I still wanna be on the porch with you when I'm 80, but I really need you to get out of my face right now.'
So let's just rejoice in the fact that there still is one celebrity couple we can channel our hopes and dreams onto. And even if they do eventually split, it's OK! Remember what Kristen said. You can split and still love each other at the same time. Love is not dead.
Check out the entire Gen Why series and other videos on Facebook and the Bustle app across Apple TV, Roku, and Amazon Fire TV.
Check out the "Best of Elite Daily" stream in the Bustle App for more stories just like this!