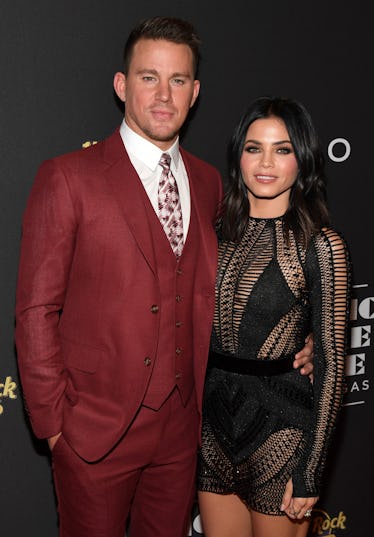 Channing Tatum Just Broke His Silence On Rumors About His Split From Jenna Dewan
Ethan Miller/Getty Images Entertainment/Getty Images
Look, we're all a little crushed after hearing that Channing Tatum and Jenna Dewan have separated. After almost nine years of marriage, the couple announced on April 2, 2018, that they have decided to part ways, and, although it's already incredibly sad, there have been a handful of rumors that are making their way around the internet that are pretty hurtful to the pair. And now, Channing Tatum's response to rumors about his split from Jenna Dewan is so, so honest that it's actually even more heartbreaking.
Tatum and Dewan issued a joint statement about their split via Twitter on April 2, sending their fans into complete and utter disbelief. In the beginning of the statement, they address how it's strange that they need to explain their reasons for separating, but understand that it comes with the role of leading such extraordinary lives. They also acknowledged that they wanted their fans to hear the truth from them, rather then seeing false accusations swirling around on social media. The statement in part reads,
We have lovingly chosen to separate as a couple. We fell deeply in love so many years ago and have had a magical journey together. Absolutely nothing has changed about how much we love one another, but love is a beautiful adventure that is taking us on different paths for now. There are no secrets nor salacious events at the root of our decision — just two best-friends realizing it's time to take some space and help each other live the most joyous, fulfilled lives as possible. We are still a family and will always be loving dedicated parents to Everly. We won't be commenting beyond this, and we thank you all in advance for respecting our family's privacy.
Tatum and Dewan have made it very clear that the reason for their separation is that they've simply grown apart. It's sad, but it's understandable.
But the gossip mill started churning, and reports that Tatum had a drinking problem started popping up. A representative for Dewan told The Daily Mail, "Happy to clarify that absolutely none of these rumors are true. The reason our statement was so positive [was] because that's the reality of the situation." Elite Daily reached out to Dewan and Tatum's team for comment, but did not hear back by the time of publication.
But a representative for Channing Tatum has now chimed in on the matter as well, addressing the rumor head-on. In a statement given to E! News, Tatum's rep said:
The media is fabricating stories and none of these accusations are remotely true ... Channing and Jenna released an honest and loving statement which is the only truth.
A source also told the magazine,
These are not issues, this is fiction. We understand that everyone is super interested in speculating on their private life and that there are people who think they have an idea of the inner life of this relationship, but it's simply not the case ... They are lovingly deciding to continue their lives together as friends and parents of Everly because that's how their relationship has grown.
If you don't have anything nice to say on the internet, don't say it. OK? OK.
Right now, both Tatum and Dewan are moving forward and have made it clear that they are focused on co-parenting Everly, their 4-year-old daughter. Amidst rumors that Tatum moved out of the couple's home months ago, a source told People, "This has been a long time coming. Like any marriage, they've had their ups and downs over the years but they really started to grow apart within the last year." Elite Daily reached out to Tatum and Dewan's teams for comment on this report, but did not hear back by the time of publication.
Of course the world is mourning the loss of yet another seemingly perfect couple, but in a February interview with Health magazine, Dewan made it very clear that she and her husband were far from perfection. She said:
When people say you guys have such a perfect life, I want to scream and tell them no one's perfect. I think there are such things as great fits. It is a great fit as long as you are growing together, and I think up until this point we've really grown together. Even if one starts to grow, the other catches up and vice versa.
BRB, crying.
Let's all just take a deep breath and try to give the couple some space. It's hard for us to see such an amazing couple separate, but it's infinitely harder for Channing Tatum and Jenna Dewan.
It's because we love them that we must let them go. So, a sad, final farewell to our favorite Step Up couple.