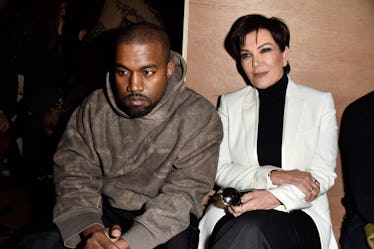 Kris Jenner Clapped Back On Twitter At This Rumor About Her & Kanye West
Pascal Le Segretain/Getty Images Entertainment/Getty Images
Hell hath no fury like Kris Jenner, especially when it comes to her family. There have been some ~rumors~ going around that momager Kris Jenner and her son-in-law Kanye West have a relationship that's currently on the rocks. Well, Kris Jenner is here to tell us all what's really going on, because sometimes you can't always believe what you read. And let me tell you, Kris Jenner's response to reports she's fighting with Kanye West is an epic clapback that has been gifted to the universe, so a big thanks to the head of the Kardashian clan for that.
According to People, inside sources said that Kanye West had "cut off contact with multiple people in his inner circle, including his managers, lawyers, and closest friends — and he's also had multiple arguments with his mother-in-law Kris Jenner." The source told the magazine,
He's had huge blow-ups with Kris. She sees how erratic he's acting and is most concerned about her daughter's brand. She's also trying to be a good mother-in-law, so he's having explosive issues with her too ... Everyone is really, really worried.
Another source added that "Kim is trying to control him and the situation, but he can't be controlled," adding that West "genuinely believes he's God and a genius and that he can do everything on his own. He has a great love for Kim, but in his mind he doesn't think Kim is a genius, and he's telling her he knows what he's doing."
Yikes.
But here's the thing: While these sources claim one thing, Kris Jenner is clapping back, basically telling everyone that none of this is remotely true, and what's being reported is all just nonsense.
Wild, indeed.
Jenner took to Twitter on April 24, tweeting out the link to the People story and writing, "Lies,Lies,Lies."
But mama Kris took things one step further and commented on another report from People claiming that West is "on the edge" and "very hard to deal with right now," writing, "Nope...not true!"
Ugh. Who would make up these rumors about sweet, sweet, Kanye?
Come on, people. Everyone knows not to get in between a mama bear and her cubs!
However, another source told People that Kanye West is simply being Kanye West, and that everything he's been doing as of late is nothing to worry about. The inside source said,
That's part of being Kanye ... He's willing to take risks with his public persona. He doesn't take it as serious as the internet takes it.
Most recently, Yeezy has graced the world once more with his online presence, making his return to Twitter very, erm, interesting.
He talked a lot about consciousness and the creation of ideas, and honestly, it made my head spin a little (but in a good way):
And sure, maybe Kanye freaked everyone out just a little when he tweeted on April 17, "Sometimes you have to get rid of everything."
To which wife Kim Kardashian responded with, "Wait...EVERYTHING?!?!?!"
Which just goes to show you that Mr. and Mrs. West are doing just fine, and nobody needs to worry, just like fans don't need to worry about Kanye West and his "feud" with Kris Jenner.
Because honestly, who can fight with Kris Jenner? She's a bad*ss, high-power lady who fiercely protects her family at all costs. Kris Jenner, the world loves you.
As you should, girl. As you should.
So let's just put these rumors to bed right now, OK? Let's leave the Kardashians, the Wests, and the Jenners alone. They're just doing their thang, and we should applaud them for that.