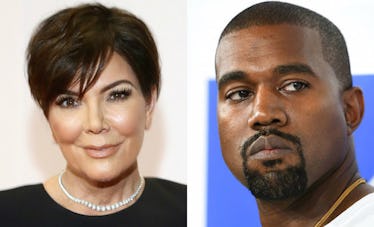 Kris Jenner Just Spoke Out About Kanye West's Controversial Behavior In A Very Honest Way
Tommaso Boddi/Larry Busacca/Getty Images
Kanye West has been causing a bit of a stir lately. The rapper performed on the season premiere of Saturday Night Live and then gave a pro-Trump rant, and he had a meeting with Trump at the White House during which he said his MAGA hat makes him feel like Superman. It's been a lot, to say the least, but Kim Kardashian has supported him through it all, and now Kris Jenner is coming to his defense as well. Kris Jenner's reaction to Kanye West's controversial behavior is overall pretty supportive.
In an interview on The Ellen DeGeneres Show airing on Friday, Oct. 27, DeGeneres asked Jenner to shed some light on her perspective of West's most recent controversial statements and his meeting at the White House. And as Kris Jenner always does, she made it seem like everything was business as usual. Nothing to see here!
"Kanye is an amazing son-in-law," she started. "He's an amazing dad and husband and friend and brother-in-law, and so we know my son-in-law Kanye."
Jenner continued, "My job as a mom is just to be there for my kids and be supportive and love them. You can't control what somebody else is doing. I can't always control what any of them do at any time, but I think what I really want to do is be there to help him and be the best version of himself that he can be." She added, "He knows that we're there if he needs us."
During his meeting at the White House, West made comments that suggested Trump was like a father figure to him and that's what makes him feel so good wearing the MAGA hat. Uh, OK. "I didn't have a lot of male energy in my home," he said. "I love Hillary and I love everyone. The campaign, I'm with her, just didn't make me feel as a guy that didn't get to see my dad all the time, like a guy that can play catch with his son." He continued, "It was something about when I put this hat on, it made me feel like Superman. That's my favorite superhero. You make a superhero cape as a guy who looks up to you." Elite Daily reached out to West's team previously for clarification on his remarks, but did not hear back by the time of publication.
He also pitched an idea for a hydrogen-powered airplane called the iPlane 1 (LOL) and told Trump that he wants him to use it as the new Air Force 1. Referencing this meeting, Jenner said to DeGeneres, "It was very spontaneous. And the stuff that they were talking about, when they got to the airplane, I was like, 'Oh my gosh, that's so Kanye.'" She continued, "He was sharing thoughts and things of himself. But I would rather he share some of that stuff privately. Obviously, that would be great."
Kris Jenner when she heard Kanye talking about iPlane 1:
"He definitely has his own thoughts and opinions and he gets very excited about that," she told DeGeneres. Then she revealed that all of this political talk he's been spewing over the last several months is something she's never seen from him in the years she's known him. "You know him a long time, I've known him a long time," she said. "He does have different sides to him and this is a side no one has seen before."
She continued,
It's a lot. Kim always says, 'I can't control what somebody else does,' and I feel the same way. It's really hard. You all know if you have kids and they might have a totally different opinion about something or a different view about something. And here's a very strong [person], he's very opinionated and he has a big voice. He has a lot to say.
Trust me, Mama Kris, no one has ever doubted that Kanye West has a lot to say.