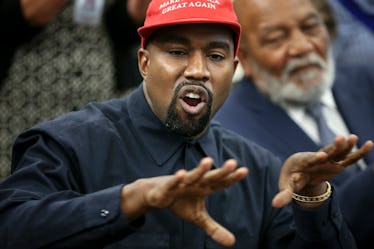 Kanye West Suggested Trump Replace Air Force 1 With The "Flyest" New Plane
Pool/Getty Images News/Getty Images
When it comes to Oval Office meetings, one would assume that some serious discussions would occur. Well, on Thursday, Oct. 11, Donald Trump and Kanye West met at the White House for a historic face-to-face interaction, and it led to some... interesting conversations. Now, many people are asking, what's the iPlane 1? West apparently has some big ideas up his sleeve.
Once news broke that West and Trump would meet in the Oval Office on Oct. 11, everyone might have assumed their conversation would focus on issues surrounding West's hometown Chicago, Illinois. Well, instead, during their meeting, West decided to introduce his idea of a hydrogen-powered "iPlane," which he thinks Apple should create to replace the presidential Air Force One carrier. To convince Trump he needs this invention, West whipped out a rough sketch of the product on his phone, and told Trump he needs to be the "flyest" president in the "flyest" plane.
He said,
I brought a GIF with me right here. This right here is the iPlane 1. It's a hydrogen-powered airplane, and this is what our president should be flying in. We're going to have Apple, an American company, work on this plane. What I need Saturday Night Live to improve on, or what I need the liberals to improve on, is: If he don't look good, we don't look good. This is our president. He has to be the freshest, the flyest — the flyest planes, the best factories.
Typically, most planes are powered by a petroleum-based fuel called "aviation fuel," but engineers have been searching for more sustainable fuel options and plane designs for aircraft carriers. Air travel leaves a huge mark on the Earth's carbon footprint, so West's idea for a hydrogen-powered plane is admittedly a hypothetical step in the right direction. Even though more sustainable options, such as electric cars, have been introduced to the public, there's still a lot of work to be done in order to increase sustainable travel.
Over the past few years, a handful of companies have been created as a way to introduce more sustainable options to travelers. Just take Sustainable Travel International as an example, which began in 2002 and has partnered with local communities, non-government organizations, and other companies to create sustainable tourism that will still protect the world's vast ecosystems.
If there was any time to work hard and fast to help the environment, it's now. On Monday, Oct. 8, the United Nations' Intergovernmental Panel on Climate Change released a frightening new report announcing that there are only 12 years left to limit climate change. According to The New York Times, the report was written by a panel of 91 scientists across 40 countries, who concluded that a climate crisis could arise as early as 2040 with risks of food shortages, wildfires, extreme heat, drought, flooding, and a complete extinction of coral reefs.
West and Trump's meeting may have been absurd to say the least, but hopefully West's iPlane 1 invokes a much-needed conversation about climate change and finding alternative, more sustainable, ways for air travel.