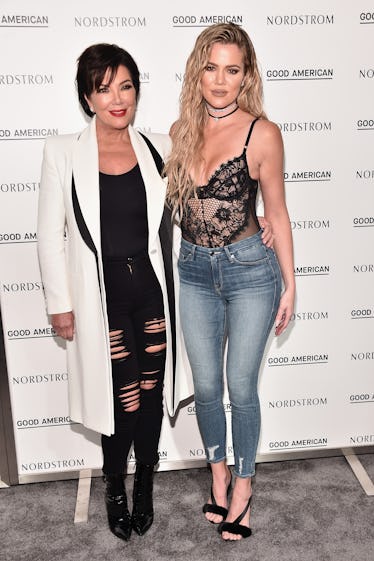 Kris Jenner Just Revealed When Khloé K Will Make The Move Back To Los Angeles
Alberto E. Rodriguez/Getty Images Entertainment/Getty Images
For everyone who hoped and prayed that Khloé Kardashian would leave Cleveland, you might be getting what you wished for. It's no secret that, ever since news broke of Tristan Thompson's reported cheating, fans have basically been begging for KoKo to pack her bags and get the hell out of dodge. And now, Kris Jenner's comments on Khloé Kardashian moving back to L.A. — possibly for good — will make you do a happy dance. I feel like I'm definitely not alone in thinking that being back in the Golden State with family and friends will do Kardashian a world of good. And considering that this is coming straight from mama Kris Jenner's mouth, I have a feeling that this isn't just hype.
While attending the American Woman premiere at the Chateau Marmont in West Hollywood on Thursday, May 31, Jenner spoke to Us Weekly about her daughter, new mom Khloé Kardashian. "She'll be home soon, so it's really great," Jenner told the outlet, sparking them to ask if Kardashian would be coming back home for good. To that, Jenner replied, "I think so! Yes!"
WHOAH WHOAH WHOAH.
Hold my drink. Did I just hear that correctly? Did Kris Jenner just confirm that Khloé Kardashian is leaving Cleveland in the dust? And if she's saying goodbye to Cleveland, does that mean she's also saying adios to the man who she moved there to be with in the first place, Tristan Thompson? You know, the guy who was reportedly cheating on Khloé throughout her pregnancy?
The suspense is killing me, people!
While Jenner didn't say anything else regarding the big reported move, she did tell the site that Kardashian and her new baby daughter are both doing well. She said,
Khloé is great! True is too. I've been FaceTiming with them for the past couple of weeks.
I mean, it's really nice to hear that Kardashian is doing well, but can we please just rewind to the part where Jenner dropped that knowledge bomb on us about her daughter coming home for good?
Back in April, before the cheating allegations surfaced and before True Thompson was born, Kardashian shared a message with her fans on her app, telling them the reasoning behind deciding to move to Cleveland, Ohio. She said,
Throughout my pregnancy, I traveled back and forth between L.A. and Cleveland quite a bit, but after a while, it was a little difficult. It was more tiring and my body got swollen, which never used to happen before pregnancy. I obviously love both cities, but I will say I'm happy to be in Cleveland right now.
Of course, once alleged footage of Thompson seemingly kissing another woman leaked, many fans took to social media to tell Khloé to take her baby and GTFO of Cleveland as soon as humanly possible:
Kardashian got everyone's hopes up a few months back when she dropped $4,000 on travel items for her baby daughter, but still showed no real movement in terms of leaving Cleveland behind.
On April 18, a source told Us Weekly that Khloé was going to stay in Cleveland until she figured out what she wanted to do in regards to her relationship with Thompson, and noted that, despite what was going on in their lives right now, it was important for her daughter to see her father. The source told the site,
Khloé appreciated her sisters coming to see her and True in Cleveland, but she made it clear, she isn't going to be leaving anytime soon. It's important for Khloé that Tristan spend time with their daughter.
Elite Daily reached out to Kardashian's team for comment on the report but did not hear back by the time of publication.
Anyway, it looks like this is all subject to change now that we heard from Kris Jenner, who essentially answered all of our prayers with just one sentence.
Here's hoping that Kardashian has already got those moving boxes out and ready. Peace out, Cleveland!