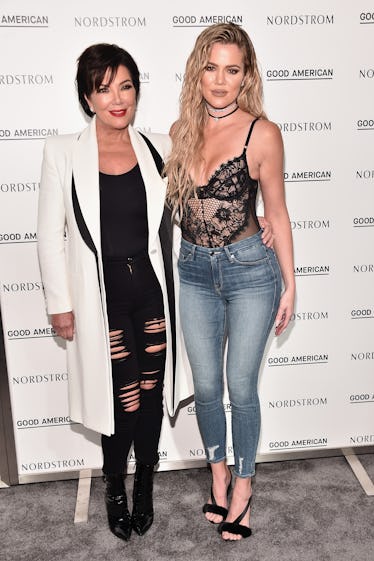 Kris Jenner Just Hinted That Khloé K's Move To Cleveland Could Still Happen
Alberto E. Rodriguez/Getty Images Entertainment/Getty Images
If there's one Kardashian I have a hard time keeping up with nowadays, it has to be Khloé. Her relationship with Tristan Thompson always seems to make headlines, but for conflicting reasons. They're reportedly happily in love one day, and planning to split the next. What is going on, Khloé? While we haven't heard much from the Kardashian herself, it's Kris Jenner's comment about Khloé Kardashian's Cleveland move that's giving fans all the (speculated) tea.
On Friday, Oct. 26, Kris Jenner stopped by for an episode of The Ellen DeGeneres Show, and played a round of "Burning Questions" with Ellen. If you've yet to see the segment, it's basically Ellen DeGeneres grilling the other person with rapid-fire questions in the hopes that some glorious details will inevitably slip out. And, while she didn't reveal too much about Khloé's living situation, she did give the world a glimmer of hope that Khloé will be staying put, or maybe not.
When Ellen asked Kris if Khloé would be moving back to Cleveland, Jenner smiled and said, "Maybe."
Ugh! You're killing me, Kris! It's so hard to tell which way the response leans. Is Khloé going to move back to Cleveland to be with Tristan Thompson? Will she ultimately stay in Los Angeles with her family to raise True?
Watch the clip below to see if you can decode Kris Jenner's poker face, because I sure as hell can't. That woman is a mystery.
Since Jenner's response isn't exactly confirming much of anything, it looks like we'll just have to rely on some recent reports that give an update on Khloé Kardashian's relationship with Tristan Thompson.
People reports that, according to an inside source, Khloé might not be interested in being with Thompson anymore. "She very much seems over Tristan," the source said. "Not sure how they went from fine to being apart for weeks, but Khloé is doing great." Elite Daily reached out to Kardashian's team about this report but did not hear back in time for publication.
OK, so that means Khloé is totally over it, right?
Wellll.
Another source told the magazine something slightly different, so insert all of your confusion here.
"Khloé isn't saying that she and Tristan split. It seems she hasn't decided yet what she wants to do about their relationship, and she seems fine about this."
The source continued, saying, "her family is happy that she is still in L.A. and wants her around for as long as possible. No one is pushing for her to go back to Cleveland to be with Tristan. This will be her decision to make."
Ugh, so what's it going to be, Khloé? Are you going to break up with Tristan? Initially, I thought that a split was inevitable, but a recent flirty Instagram exchange between Khloé and Tristan may be proving otherwise.
Check out all the heart-eye emojis these two are sending each other on social media:
They sure seem like a couple if you ask me.
So, will Khloé end up back in Cleveland? Will she stay put in L.A.? All of that remains to be seen, so in the meantime, we'll just have to keep our fingers crossed that momager Kris Jenner let's some more details slip about Khloé's future whereabouts. We know she knows.
Just let us know whenever you're ready to spill it.