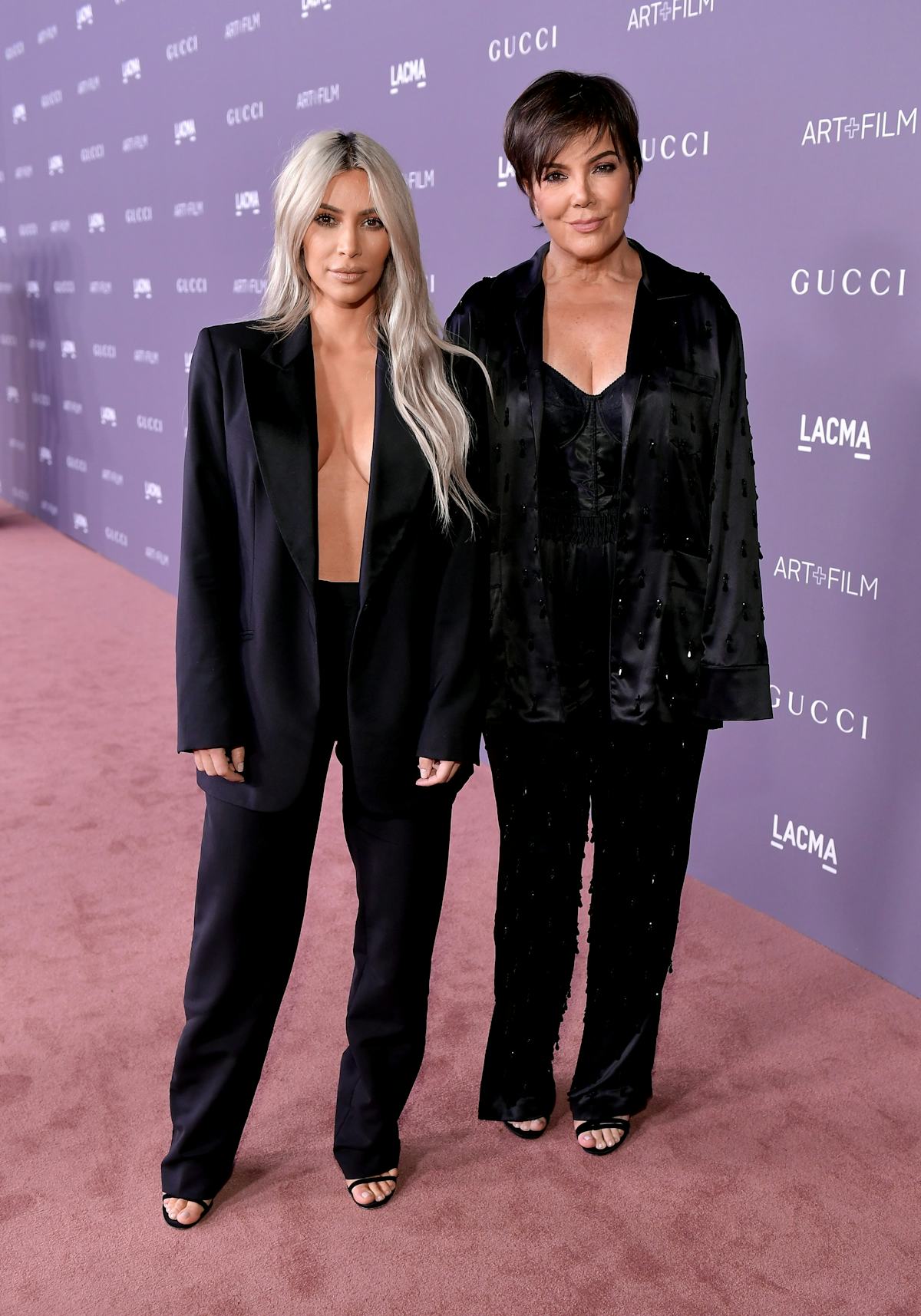 Kris Jenner Dropped An Unreal Amount Of Money On Shopping For Kim K's Baby
Neilson Barnard/Getty Images Entertainment/Getty Images
Kim Kardashian and Kanye West welcomed their newest child into the family on Jan. 15 via surrogate, and it's so exciting. While family and friends of Kim and Kanye have shown an outpouring of support and big congratulations, no one is being as extra as momager Kris Jenner. Kylie Jenner sent Kim a precious arrangement of roses that made a giant heart shape. So sweet, right? Well, Kris overshadowed them all when she reportedly spent over $10,000 on baby gifts for Kim and Kanye's new daughter. You read that correctly: Kris Jenner spent $10,000 on baby gifts. And you thought Kylie's flower arrangement was thoughtful...
We all know Kris Jenner is the hardest hustling mom in the business, and it turns out her reputation is continuing into grandparenthood. According to TMZ, Kris spent the hefty figure at the West Hollywood baby boutique Petit Tresor. The luxe baby store boasts itself as, "The most trusted consultants to a new generation of mothers," according to the website.
TMZ reports that Kris did most of her shopping in late December. Since she knew Kim and Kanye's new bundle of joy was arriving sometime in January, she wanted to give all the customized items plenty of time to arrive. Good thinking, Kris.
Some items include a "silver cross pram" for North to push the new baby around in (priced around $3,000) and a "handcrafted Anaiza wooden crib" (priced around $6,000). Thanks, grandma.
Of course, Lovey (aka Grandma Kris) couldn't leave the store without a few outfits for all her grandkids. She snagged all the kiddos rose-patterned outfits that each rang up for a couple of hundred dollars.
It's no surprise Kris has been feeling generous with the arrival of the new baby. I feel like I've been anticipating the birth for YEARS, I can't imagine how the direct family members feel. Fans rejoiced when Kim officially announced the birth on Jan. 16. The statement from the reality star read,
January 15, 2018, 12:47 a.m., 7 lbs 6 oz. Kanye and I are happy to announce the arrival of our healthy, beautiful baby girl. We are incredibly grateful to our surrogate who made our dreams come true with the greatest gift one could give and to our wonderful doctors and nurses for their special care. North and Saint are especially thrilled to welcome their baby sister. Love, Kim Kardashian West.
I'm sure North and Saint are geeked to have a new sibling. I'm the youngest in my family, and I can't even imagine the joy I brought to my siblings. So, I totally understand what Kim's new baby is going through.
Kim admitted to Ellen DeGeneres in November that it was harder explaining the arrival of the baby to her kids, especially Saint. She said,
I don't know if my son gets it yet. Especially because I don't have the belly it is a different experience... so I said to my sisters, 'Would I be really creepy if I just had someone dress up like a big stork and drop the baby off at the front door?' And just have to explain that?
I'm pretty sure she didn't go that far, but that would be kind of cute.
As for North, she's been excited to have a sister and was looking out for her before she even arrived. Kim told Ellen that North was being very... considerate and "testing" out her new little sister's toys. Kim said after her cherry blossom themed baby shower,
She [North] was opening them all up the next day and she said, 'Mom, Baby Sister's not here. I think I need all of her toys in my room. I'll play with them and just make sure they're OK for Baby Sister.'
OK, North, I see you. These three kids are definitely going to give Kim and Kanye a run for their money. I'm sure things are so exciting at the Kardashian-West house, and I can't wait to see pictures of "baby sister." Subtle hint: SOON, PLEASE.
Check out the entire Gen Why series and other videos on Facebook and the Bustle app across Apple TV, Roku, and Amazon Fire TV.