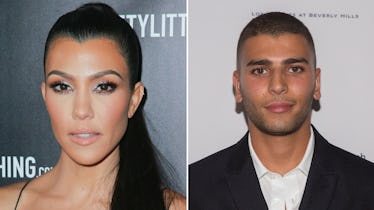 Kourtney K's Latest Instagram Might Be A Cryptic Message About Her Breakup
Rich Fury/Gabriel Olsen/Getty Images Entertainment/Getty Images
Kourtney Kardashian is apparently single again, and she's already showing the world how she feels. On Tuesday, August 7, TMZ reported that Kardashian and Younes Bendjima, who have been dating since 2016, have split. It was also reported that Bendjima was not too broken about the whole thing, and has already been spotted in Mexico with a former Hooters waitress named Jordan Ozuna, who has been previously linked to names like Tyga and Justin Bieber. Sigh. But guess what? Our girl is not going to just quietly move on from all of this, and Kourtney Kardashian's cryptic Instagram post most *definitely* seems like a nod to her breakup. Elite Daily reached out to Kardashian's team for comment, but have not heard back by the time of publication.
The last time we've had this much of a reaction to an Instagram post from Kourtney was when Younes Bendjima made a rude comment on one of her photos back in July.
"That's what you need to show to get likes?," he commented on the photo, which was a photo of Kourtney's backside in a thong bikini (looking like a damn dream, I might add).
A source told E! News that Kourtney was frustrated by Younes' "impulsive" nature after there was a lot of backlash from fans who saw the comment:
Kourtney doesn't appreciate Younes posting his feelings in a public forum and being impulsive. She's frustrated that he continues to get upset about it. She isn't going to stop doing what she's doing and feels like he needs to understand and deal with it … Younes gets jealous and can be possessive of Kourtney. When she posts half naked pictures, he gets very upset. He wants her for himself and doesn't want to share her with the world.
So now, we're seeing a much different kind of Instagram post from Kourtney, and I have to say, I don't hate it.
On August 6, Kourtney posted a picture of herself to her Instagram account, looking fly AF, writing, "don't make me feel a way":
And, while this could mean a number of things, I'm pretty sure this has to do with her breakup from Younes Bendjima, no?
In my opinion, what she's saying is that it's not up for someone other than herself to make her feel a certain way, perhaps hinting that Younes made her feel anything other than like the goddess she is.
And honestly, after those images published depicting Bendjima in Mexico hugging a woman intimately, I'd say that perhaps Kourtney is better off without him.
Of course, Bendjima called out The Daily Mail on his Instagram Story, claiming that the images shown of him and Ozuna were misconstrued, writing, "They really want me to be the bad guy ... can't have fun with your friends no more."
And, while we don't know the full story (hey, they *could* be just really, really close friends), many fans of Kourtney are happy to say goodbye and good riddance to the relationship, taking to Twitter to express how they really feel:
And, lastly, my personal favorite:
Looks like the tribe has spoken, fam.