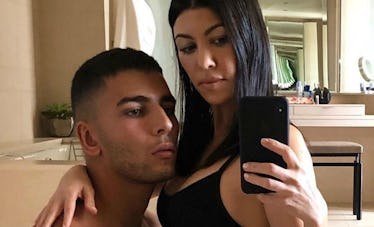 Kourtney K Unfollowed Younes Bendjima On Instagram, So That Breakup Report Might Be Real
Instagram/KourtneyKArdashian
You guys. You guys. YOU GUYS. I can't believe these words as I'm writing them out, but here goes: Kourtney Kardashian unfollowed Younes Bendjima on Instagram, and now my world is completely obliterated. I am shooketh to my core. What does this mean?! Well, according to a report from TMZ, it looks like the two have split... and Bendjima might have already moved on. World, what is going ON right now?
On August 7, a report from TMZ stated that a source said Kourtney split from her boyfriend, model Younes Bendjima, who she has been dating since 2016. And now, it looks like Younes was photographed in Mexico with someone who is decidedly not Kourtney. TMZ identifies the woman as Jordan Ozuna, a "former Hooters waitress who dated Tyga and Justin Bieber," and is reportedly best friends with Bre Tiesi, who is Johnny Manziel's wife. Elite Daily reached out to Kardashian and Bendjima's team for comment, but have no heard back by the time of publication.
If you're confused right now, hello, and welcome to the club! I mean, didn't it seem like the pair were going strong?
Wellll.
If you remember correctly, Younes Bendjima made a rude comment on Kourtney Kardashian's Instagram photo back in July, which may have shown some tension going on between the couple right under our eyes.
"That's what you need to show to get likes?" he commented on the photo, which was a gorgeous shot of Kourtney in a thong bikini. Um, OK, no need to be aggressive, sir.
A source told E! News that Kourtney was frustrated by Younes' "impulsive" nature, and that he can get "jealous" and "possessive" of the Keeping Up With The Kardashians star:
Kourtney doesn't appreciate Younes posting his feelings in a public forum and being impulsive. She's frustrated that he continues to get upset about it. She isn't going to stop doing what she's doing and feels like he needs to understand and deal with it … Younes gets jealous and can be possessive of Kourtney. When she posts half naked pictures, he gets very upset. He wants her for himself and doesn't want to share her with the world.
So perhaps things weren't as picture perfect as we initially believed.
And if you think all of this information is shocking enough — it looks like Kourtney has also deleted almost all images of her with Younes on her Instagram account, so take that as you will. (I'm taking that as a final nail in the coffin, but hey, that's just me.)
But look: we all know what it means when you delete all of the photos of you and your significant other from your social media accounts. Clearly, none of these new tidbits of information are making things look good for Kourtney and Younes.
While we don't know the full truth just yet, whatever is going on sounds pretty juicy, so it's only a matter of time until we get to the bottom of this. Here's hoping that, no matter what the outcome, Kourtney is choosing happiness above all.