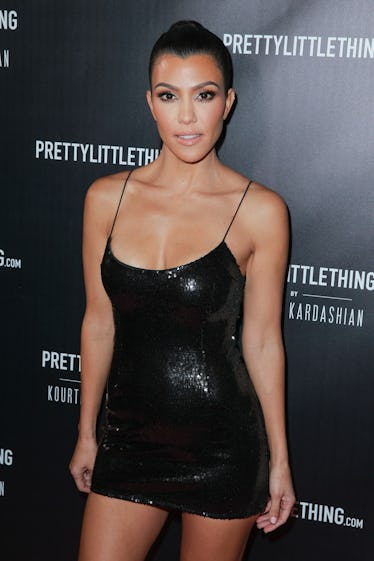 Kourtney K Clapped Back So Hard At A Hater Who Mom-Shamed Her For Being In Italy
Rich Fury/Getty Images Entertainment/Getty Images
Kourtney Kardashian recently took her kiddos on an Italian vacation with Younes Bendjima and some friends, but one thing she's not here for is people online shaming her for doing so. Kourtney Kardashian's comment to a mom-shamer who was chastising her for seemingly not paying attention to her kids while on vacation quickly put the mom-shamer in their place.
Kardashian recently posted a photo to Instagram that showed her sitting on a yacht on a gorgeous day in Italy and eating a bowl of focaccia bread. It was a harmless vacation photo, but people will always find something to shame women for. The photo was captioned, "just finished my daily basket of focaccia...hbu." An Instagram user commented on the photo and said, "Where are your kids?" Kardashian, having none of this, clapped back at the user and said, "My son was taking the photo, and the other two were sitting a table across from me. Thank you so much for your concern."
There you have it. It's super frustrating to see women being mom-shamed just because their children aren't in a photo with them. Can a woman not take a solo photo of herself while on vacation? Let a girl live, sheesh.
Can she just eat her bread in peace?! A lot of things are no longer sacred in this world. Can we at least agree that bread should be?!
Scott Disick and Sofia Richie recently took Mason, Penelope, and Reign on a vacation as well, and Disick posted several photos from the trip — both with and without his children. I don't recall seeing anyone in the comments section saying things like, "Where are your kids?" but hey, maybe I missed them. (Or maybe they don't exist because #sexistdoublestandards, much?)
If you take one look at Kardashian's Instagram grid, you'll see that she's been posting photos of her and her children (both with her and on their own) while on this vacation, so this whole "where are your kids" comment is pretty uncalled for.
Hey, look! I found her kids!
Anotha one.
Anddddd anotha one.
One more time for the folks in the back.
Just so we're clear, Kourtney Kardashian has posted photos with each of her children throughout their Italian vacation. This whole "stop enjoying yourself and get back to watching your kids" vibe... not about it. And neither is Kardashian. She's on vacation with her children, her boyfriend, and friends. The moments she chooses to share with people on Instagram are just snapshots of brief moments on the vacation. There's a lot of family time being spent there that we'll never see. Chill with the mom-shaming.
This vacation is probably a bit of a calm-before-the-storm trip for the family, as Keeping Up With The Kardashians airs its 15th season on E! starting on August 5. The KUWTK Season 15 teaser promises a lot of drama between the sisters, with Kourtney being visibly upset throughout most of the trailers. In one shot from the trailer, Kourtney cries while speaking to Kim and Khloé saying, "I'm not going to be around people that bring me down on a daily basis." In another moment in the trailer, you see Kourtney storming out of one of their houses and then Kim Kardashian says, "She doesn't want to be a Kardashian anymore."
Check out all the drama in the Season 15 teaser.
At the beginning of the trailer, Khloé Kardashian is heard saying, "We were each other's best friends and greatest defenders, but we need to refocus." Kourtney's tearful confession to her sisters comes next, and then the trailer shifts to remind us that this season will document Khloé's pregnancy (and hopefully Kylie's pregnancy and the Tristan Thompson drama, but it's not addressed in this teaser). It seems like the show is trying to tease the possibility that Kourtney Kardashian no longer wants to be part of the family's empire-building show, but we'll have to wait and see if that's the truth when the show returns on Sunday, August 5 on E!. After all, nothing is ever as it seems with the KUWTK promos!