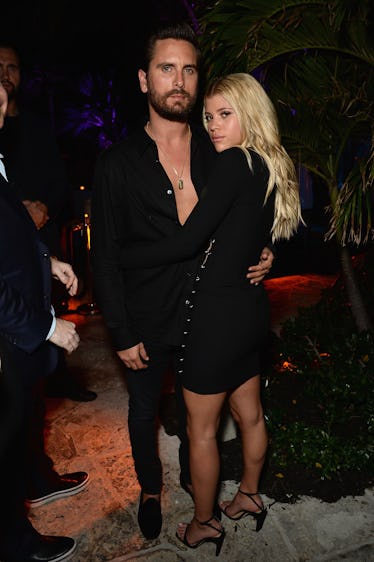 Scott Disick Took His Kids On Vacation With Sofia Richie & There Are Pics
Andrew Toth/Getty Images Entertainment/Getty Images
Are things heating up between Scott Disick and Sofia Richie? They could be! The two spent a relaxing weekend away together, which was documented on Instagram with a slew of romantic pics. While the world has learned to expect Richie and Disick to go jet-setting, what wasn't expected was that Disick would bring the kids along. That's right! Scott Disick and Sofia Richie's vacation was spent with the little ones in tow. And that could mean this relationship is way more serious than anyone initially thought!
Disick famously shares three children with ex-girlfriend Kourtney Kardashian. There's Mason, aged 8, Penelope, aged 5, and Reign, aged 3. It was the two older ones, Mason and Penelope, who were reportedly out and about with Disick and Richie over the weekend.
Disick and Richie were spotted walking together on the beach in Malibu with Mason and Penelope at their sides.
News of the surprise family get-together came on Sunday, April 29, when Disick, 34, shared a photo of himself and Mason together on his personal Instagram.
On Saturday, April 28, 19-year-old Richie shared a romantic photo of Disick sprawled out on a hotel bed with a heart-shaped rose petal display. Clearly, things are getting serious between the two of them!
So, is Richie ready to take on the role of stepmom? The two have reportedly been romancing each other since May 2017. If that is, in fact, when their relationship started, then they're just coming up on their one-year anniversary.
Is that the reason they went on this mini vacation? Possibly!
Whatever the reason, it's so obvious that Richie and Disick are head-over-heels in love with each other. And that they're including Disick's kids in their outings is really, really sweet and speaks to Richie's maturity despite her age.
There's a 14-year age difference between Disick and Richie, which some people seem to take issue with. But, by the looks of things, the two are really hitting it off and Disick is treating Richie really well. So, kudos to them for sticking it out this long.
News of their relationship first broke in September 2017, with a source telling Us Weekly that the two waited until then to make it official:
"Things became official over the past week while they were in New York City together," the source said.
The source also claimed that the Kardashian clan were uncomfortable with the pairing at first because Richie was a long-time family friend:
It's so weird. Not just the age difference, but mostly the fact that Sofia had been a family friend for years, and was close to Kendall and Kylie.
Back in February 2018, Lionel Richie said Disick's relationship with his daughter was likely a phase, or at least he hopes it is:
When you're 19 you know everything. Is it going to be for life? I don't know. But for right now it's just a phase and I'm going to stand real still in the corner, get me a good drink and not make too much noise.
Sounds like not too many people are rooting for them, which is sad to think about. First love, as may be the case with Richie, is hard enough as it is. Hopefully, Richie finds happiness with Disick and is making good choices for herself.
Prior to meeting Richie, Disick was involved in a long-term relationship with Kardashian. The two were together on and off since 2007 and finally split for good in 2015. Richie, on the other hand, was previously involved with Justin Bieber.
For all the speculation surrounding Richie and Disick's relationship, they seem to be doing just great. Last month, Richie posted a photo of them to her Instagram and called Disick her "heart":
Adorable!