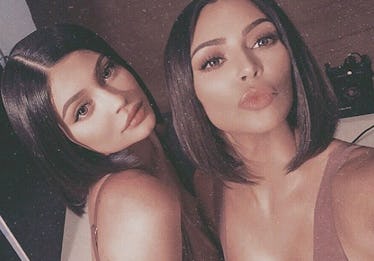 Kim Kardashian & Kylie Jenner Teamed Up For A New Drop & You'll Want To Douse Yourself In It
It's a theorem the Kardashian-Jenners have proven time and time again: nothing gets the people going like a sister-sister collab. Well, get hyped now, because Ms. Kardashian West has just confirmed that a KKW Beauty x Kylie Cosmetics perfume is on it's way. I tell no lies.
In a conversation with Ashley Graham for the inaugural episode of Graham's Pretty Big Deal podcast, Kim K. talks family, fit models and changing at J.Lo's house. But then she spilled the beans on what really matters: her first fragrance launch of 2019 (which seems like a long way off, but is just a few very short months away).
"I'm so excited. I have a fragrance coming out early next year with Kylie," the beauty entrepreneur shared. "Kylie only wears my fragrances. She's always loved them and has always collected them in her room since she was little and when I started. She's my biggest supporter on that, so I'm excited for that collab."
Of course, this isn't the first time the duo have partnered on a beauty launch. This spring Kylie Cosmetics dropped a KKW x Kylie Cosmetics nude lipstick bundle. Then in July, Kylie teased that the pair may be teaming up for another beauty drop, asking her Instagram followers, "who wants KKW X KYLIE round 2?" The answer: a cool 4.7 million fans who showed their support with a like.
According to Kardashian West, Jenner doesn't just stan for KKW Beauty fragrances. The kid sister with a nearly billion-dollar makeup brand of her own also kicks down tips for West's makeup line and shares intel so Kylie Cosmetics and KKW Beauty products only intersect when intentional, Kardashian shared. "We're really supportive of each other ... We'll test ... and see each other's formulas and launches of things to make sure that they're different," she told Graham.
But back to that killer collab: While Kardashian West didn't get into exactly what inspires the new fragrance, she did drop knowledge on how she approaches the creative process when building a scent:
"Fragrance to me is really intimate and so every one that I do, it takes me a longer time to figure out what it's going to be — from the bottle to the press thing to the scent. It's so emotional for me, so I think people feel that emotion," Kardashian West said.
Those who are already guessing what the scent may entail may find clues in what Kardashian West shares about her day-to-day life. "When I was going through a hard time and people were giving me crystals, that meant something to me and then I made my perfume bottles crystals," she explained, before calling out her headline-grabbing bottle for KKW Body and other "fun things" that evoke "a different vibe."
Judging from her most recent Instagram posts, inspo may come in the form of baby girls or cold hard cash. One thing we do know: if previous releases are any indication, this baby is going to sell out fast.