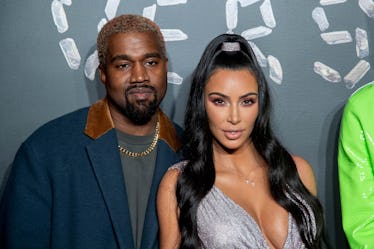 Kim K & Kris Jenner's Reactions To Kanye West's TMZ Interview On 'KUWTK' Were Complicated
Roy Rochlin/Getty Images Entertainment/Getty Images
Season 15 of Keeping Up With The Kardashians came to a close on Sunday, Dec. 9 and, oh boy, what a ride this season has been. Viewers have seen Kim, Kylie, and Khloé all welcome their daughters into the world, they've seen the fallout of Tristan Thompson's cheating scandal, and in last night's episode, they saw the family's reaction to Kanye West's now infamous TMZ interview. Kim Kardashian's reaction to Kanye West's TMZ interview on KUWTK is exactly what she's been saying about her husband in interviews and on the show for months: he doesn't always mean the things that he says. (Uh, OK. But then why does he say them? Just curious...)
The episode started out with Kim talking to Kourtney about her trying to help get Alice Johnson out of her life sentence for a non-violent, first-time drug offense. Right in the middle of her trying to get her canceled meeting with Trump rescheduled (she coordinates with Jared Kushner and her lawyers about Johnson throughout the entire episode), Kanye West did his TMZ live interview during which he said slavery seemed like "a choice."
"When you hear about slavery for 400 years. For 400 years?! That sounds like a choice," he said in the May 2018 interview. "Like, you was there for 400 years and it's all of y'all!?" The comments were controversial, to say the least. Elite Daily reached out to West's team previously for clarification on his comments, but did not hear back by the time of publication.
Coincidentally, Kris Jenner had a previously scheduled interview on The Ellen DeGeneres Show set up right around the time of this TMZ interview. Last night's episode revealed that Kimye asked Jenner to cancel the interview because they felt she wasn't the right person to comment on West's TMZ interview.
"I just want to make everything better," Jenner told Corey Gamble while backstage at Ellen. "You know me, I want everybody to get along, I want everybody to be happy, I want everybody to understand one another and communicate." She went on the show regardless, and said that she knows her son-in-law always leads with good intentions and that he can explain his words for himself.
"Even though Kanye went on TMZ this morning and made some controversial comments," Jenner said in a solo interview during KUWTK, "my loyalty really lies with Kanye." Kim Kardashian's reaction, however, was different.
"When I saw the [TMZ] clip, I rushed home," Kardashian told Jonathan Cheban and Simon Huck during the episode. "I was hysterically crying. So I go home, and he's totally fine." So Kardashian saw her husband's TMZ interview, and she apparently thought he was having some kind of breakdown, which made her have her own breakdown as a result. As it turned out, she had no reason to panic. But those panicked feelings appear to be what West rapped about on his song "Wouldn't Leave."
"The thing is, when he gets ramped up, he can't control what he says, he can't let it go. But he loves being ramped up," Kardashian continued in her convo with Cheban and Huck. (For context, they were in New York City getting ready for the Met Gala during this conversation. She was also trying to get her meeting with Trump rescheduled simultaneously.)
"He's like, 'I feel powerful when I'm ramped up,'" she continued to explain. "'I don't want to be so suppressed. Yeah, I say crazy sh*t, but I've always said crazy sh*t. That's why I'm Kanye.'" I don't know about y'all, but this whole Kanye West saying controversial things and saying he can do that because ~he's Kanye~ is getting really old.
Nevertheless, Kardashian did her part to clean up the PR mess her husband started. (Does she ever get sick of this...? I feel like she must get sick of this.)
"I always know what Kanye's intentions are and what he's trying to say," she said, "but I also know that they're gonna write a headline and people are going to assume that that's exactly what you meant." Well, yeah. I think most people would assume that when a person speaks, they mean what they say. Why should Kanye West be an exception to that?
"That, as a wife, is just really frustrating to see — the media take everything and run with it." Girl, OK. I feel like this wouldn't be a problem if West would just, I don't know, think before he says things like slavery seemed like a choice? Seems like a pretty simple solution. Just sayin'.
West's album release party for Ye went down in Wyoming around this time, as well. While in Wyoming, West spoke with Charlamagne Tha God trying to explain his TMZ interview. Viewers saw part of that interview during the Dec. 9 episode. Kardashian then said in a solo interview that she's working on helping her husband better communicate his thoughts.
"I obviously support him and will always, but he likes to speak for himself and I like to speak for myself," Kardashian said. "As his wife, I just have to express how I feel and have those private conversations with him, and just help him better communicate what he really means to say." That would be great. TYSM, Kim.