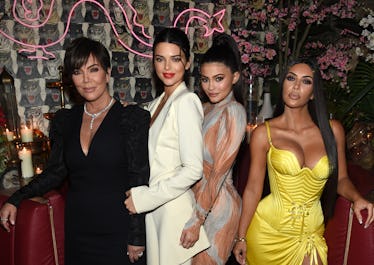 Kim Kardashian & Kylie Jenner Shared The Cutest Throwback Pics For Kendall's Birthday
Dimitrios Kambouris/Getty Images Entertainment/Getty Images
It should come as no surprise that the Kardashian-Jenners are all about sharing the birthday love when someone in the fam is celebrating their big day. If you watch Keeping Up with the Kardashians, then you know that they are one close family. So, when Kendall rang in her 23rd birthday on Saturday, Nov. 3, here sisters were right there to make sure she felt loved and celebrated all day long. One way they did that: Instagram birthday tributes. Fans got a treat, too, because Kim Kardashian's & Kylie Jenner's birthday posts to Kendall feature so many Kar-Jenner throwback pictures.
With a family as big as the Kardashians and Jenners, it can be hard to stand out from the crowd when trying to wish your sibling a happy birthday. From the looks of the heartfelt posts from two of her sisters, Kylie and Kim had the same idea when it came to celebrating Kendall's special day on social media: throwback pics. It's not a bad idea, either, because people generally love a good dose of nostalgia, and strolling down memory lane via old photos sounds like great way to remember some of the best times with your closest family.
Kim kept her post simple with one picture of her and Kendall from way back in the day. She captioned it,
Happy Birthday @kendalljenner I've never met a sweeter or prettier human being and someone who has so much fun in life! I hope you get everything you've ever dreamed of for your birthday because you deserve it! I'm so happy you are my sister. I love you
Aww, doesn't that just tug at your heart a bit? The combination of Kendall's adorable baby picture and Kim saying how happy she is that Kendall is her sister is enough to give you all the feels. Kim also added, "I've never met a sweeter or prettier human being..." which, TBH, is pretty great thing to hear on your b-day.
OK, now on to Kylie's photo tribute that has nine totally adorable throwback pics of Kendall and Kylie in their early years.
Kylie kept is short and sweet with the caption, writing,
happy birthday to my partner in crime, my best friend, my sister! @kendalljenner i couldn't have done it all without you ♥️
OK, the Kar-Jenners seriously have the birthday-wish game on lock. Seeing as though Kendall and Kylie are less than two years apart in age, it makes sense that Kylie's birthday post to Kendall would focus on how close these "partner[s] in crime" are. From the pics, it definitely looks like these two have had their share of fun together over the years.
Sister Kourtney got in on the birthday fun by sharing photos and videos of Kendall on her IG Story on Saturday. While there weren't way-back throwbacks like on Kim's and Kylie's posts, this snap of Kourt and Kendall ice skating looks like a fond memory for the sisters, so I'd bet Kendall was happy to come across it on her birthday.
Earlier in the day, Khloé Kardashian and mom Kris Jenner also shared heartfelt tributes to Kendall on Instagram. Khloé even shared a funny video of Kendall from when they were at a winery and Kendall toppled off her bike. Thankfully, she was fine, so now it's just a fun memory to laugh at on her birthday. LOL
From throwback pics to Kris calling Kendall her "beautiful angel girl," Kendall's birthday was all the rage on IG on Saturday, so I hope the model and KUWTK got to see them all and enjoy her day!