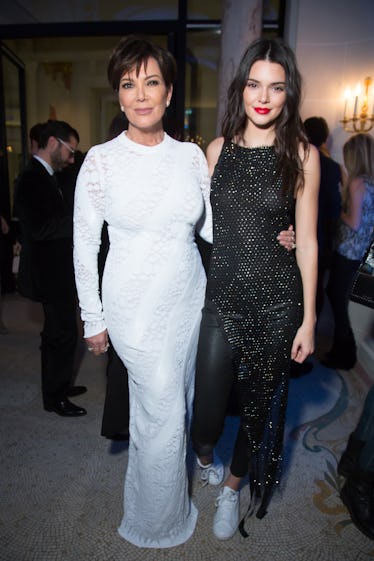 Kris Jenner Just Shared The Sweetest Birthday Message For Kendall Jenner's Special Day
Victor Boyko/Getty Images Entertainment/Getty Images
It's become clear that sharing birthday wishes on social media is a must if you want to wish your friends and family a happy day. And when super famous celebs celebrate their birthdays, the birthday tributes come pouring in. On Saturday, Nov. 3, model and Keeping Up with the Kardashians star Kendall Jenner turned 23 years old, and mom Kris Jenner was ready with the most heartwarming Instagram tribute to her daughter. Kris Jenner's birthday message to Kendall Jenner called her "my beautiful angel girl," showing that moms know best how to make their kids feel special.
Of course, you'd expect a mom to come in clutch with a sweet birthday tribute, but Kris really outdid herself with her IG post filled with pictures of the mom and daughter duo — and the sweetest caption you ever did see. In the Nov. 3 post on her official IG account, Kris wrote,
Happy Birthday to my beautiful Angel girl @kendalljenner!!!! You are the kindest, sweetest, most loving, giving, special girl in the world and you have the biggest heart. I am beyond blessed to be your mommy and I thank God every day for the privilege of spending my life with you. I am so proud of you and I cherish every single moment and memory we share and I love you more than you will ever know. ❤️🙏 mommy xo
Aww!
If you go check out the IG post, you'll also see some very cute throwback pics of Kendall as a little girl. OK, my heart is seriously bursting with all this birthday love. Not only did Kris call her daughter a "beautiful angel girl," but she also shared all the qualities she loves about her now 23-year-old daughter.
"You are the kindest, sweetest, most loving, giving, special girl in the world and you have the biggest heart," Kris gushed in the post.
Kris wasn't the only one to show up with the birthday wishes on social media. Sister Khloé Kardashian went all out on her IG Story on Saturday, Nov. 3, filling it with photos and videos of Kendall. And when I say she went all out, I mean it — she shared plenty of photos and videos on her IG Story and, of course, a birthday post on her feed.
In her birthday message, Khloé seemingly echoed her mom's sentiments about Kendall when she wrote,
Happy birthday my sweet Kenny! I love you for who you are and couldn't imagine a life without YOU. If anyone knows you like I do, they know how much of an amazing, kind, quirky, loving person you are and how much any one would dream to have you in their life. Some people aren't as lucky as us - not everyone gets to have a sister and not everyone gets to have a love and bond that all us siblings have with one another. Blessed we are! We all celebrate you today and everyday! Let your confidence continue to shine and never be anyone but yourself. You are perfect in every single way. I love you my sweet angel sister!
Don't you just love to see sisters lifting each other up? Khloé talking about their sister "bond" and how "amazing, kind, quirky, [and] loving" her "angel sister" is seriously melts my heart. And she also shared a totally adorable throwback photo on her Story:
It looks like Kendall has no shortage of birthday shout outs on her special day, and I'm sure the rest of her famous fam will keep the well wishes pouring in. (Fingers crossed for more throwback photos.) Happy birthday, Kendall!