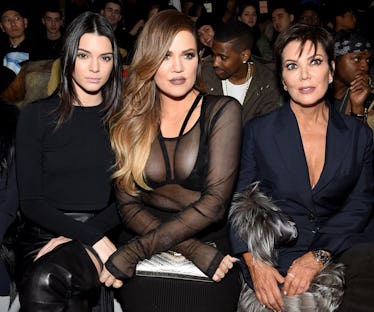 Khloé K Shared This Hilarious 'KUWTK' Clip In Her Birthday Tribute To Kendall Jenner
Dimitrios Kambouris/Getty Images Entertainment/Getty Images
Doesn't it seem like just yesterday that you were watching Kendall Jenner grow up alongside little sister Kylie on Keeping Up with The Kardashians? Time flies, and it appears like sister Khloé was also feeling the nostalgia as the model rang in her 23rd birthday on Saturday, Nov. 3. Khloé Kardashian's Instagram birthday tribute to Kendall Jenner is filled with all the best memories over the past year, including videos which show the birthday girl's lovable silly side. Just a warning: prepare to spend the rest of your day on your couch, because you're going to want to binge-watch all the KUTWK when you're done giggling and happy-crying through these gems.
On Saturday, Khloé Kardashian started the birthday festivities off on a sentimental note as she treated fans to a full Instagram tribute dedicated to the lady of the hour. Captioned, "Happy birthday Kenny," the fitness guru started off her collage with a selfie taken with Kendall and Scott Disick before taking us all on a walk down memory lane from 2017. Most of the selfies and polaroids are from the past year and include previously-seen moments like the Kardashian-Jenner's holiday 2017 bash, but there are a few picks on there that are completely priceless and will give you all the KUWTK nostalgia. The 23-year-old can be seen shedding her model persona and showing off a goofier side as she dresses up along with big sister Kourtney and showing off a few very stellar dance moves in several different videos, and it will definitely make you LOL. Then, just because you need more laughter in your life, there's this clip previously posted to Khloé's feed on May 15, 2017, which shows the birthday girl attempting (and failing) to ride a bicycle in a giant pink fluffy sweater.
While the biking fail might be my favorite part of the whole compilation, the whole sister tribute is seriously sweet and is guaranteed to give you all the feels.
In addition to posting on her Instagram Story, our girl KoKo kept the pictures and videos coming with an official post celebrating her sis's special milestone, and her accompanying caption is seriously everything.
"Happy birthday my sweet Kenny!" she wrote. "I love you for who you are and couldn't imagine a life without YOU. If anyone knows you like I do, they know how much of an amazing, kind, quirky, loving person you are and how much any one would dream to have you in their life." I'm not crying, you're crying.
She continued with a reference to the Kar-Jenner clan's special "bond." The mom-of-one gushed, "Some people aren't as lucky as us - not everyone gets to have a sister and not everyone gets to have a love and bond that all us siblings have with one another. Blessed we are! We all celebrate you today and everyday! Let your confidence continue to shine and never be anyone but yourself. You are perfect in every single way. I love you my sweet angel sister!" OK, so maybe I am crying at this point, so excuse me while I try to compose myself amidst all the sister love that's happening.
If Khloé's posts are any indication, we have a highly emotional day ahead of us on Instagram, so grab some tissues and get ready for all the happy tears and chuckle fests over the next few hours as tributes from Kendall's other sisters start pouring in.