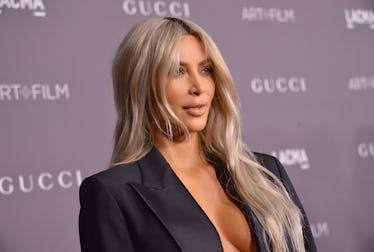 Kim Kardashian's IG Pic Of Dream & Saint Hugging Will Melt Your Heart
Charley Gallay/Getty Images Entertainment/Getty Images
THIS IS NOT A DRILL. Kim Kardashian just posted an uber-adorable picture of her niece Dream Kardashian and her son Saint West to her Instagram, and OMG. I literally live for any pic that she posts, but she really has a knack for capturing the most intimate photos of the kids in her family. From the pics of her daughter North West dressed up like a ballerina to precious photos of her newborn daughter Chicago West, I can't get enough of the kids in the Kardashian family. That's why these new pics might be the cutest thing you'll see today. No, seriously — I'm betting that Kim Kardashian's Instagram of Dream and Saint hugging will have you swooning (and checking her page religiously for any future kiddy posts).
In the photo that the beauty mogul shared on Instagram on April 13, Dream is rocking two ponytails that are tied with adorable pink ribbons, and Saint's beautiful, bushy curls are on full display. She flaunts a cute little smile while Saint wraps his tiny arms around her, which shows that the cousin love is so, so real. Kardashian captioned the photo, "Blessings," and I couldn't agree more.
The post comes just one day after Kardashian's sister, Khloé, gave birth to her first child with baller Tristan Thompson. Earlier in the day on April 13, Kardashian congratulated her sister with a sweet message that she shared to her Twitter page. She tweeted,
I'm so happy for you! Your baby girl is so beautiful! You are so strong, you made that look so easy! I can't wait for our baby girls to grow up as best friends the way we are! I'm so happy I was able to return the favor of holding your leg while you pushed LOL
While Khloé's daughter is obviously too young to play with her cousins just yet, based on the photos we've seen, we can guess that she'll fit in just fine once she gets a little older. Kardashian has also been right by her sister's side throughout her journey to motherhood, which I'm sure will help their kids bond, too.
On April 2, she commented on how well she and Khloe were getting along during her pregnancy in an interview with Entertainment Tonight. She said, "Khloe and I have a really good thing going on right now ... I'm like the real one with her [about] what goes down and how it's going to go down."
Back in December 2013, Kardashian also opened up about how North gets along with her cousins Penelope and Mason Disick despite their age differences. According to Us Weekly, she told MobioINsider, "It's so cute how they all love each other so much! Penelope & North are bff!" And they clearly are: They shared a Moana and Hawaii-themed birthday party in 2017. They dressed up as princesses and went to Disneyland the year before. And they've been spotted holding each other's hands on almost every adventure they go on.
While Penelope and North are besties, Mason, the eldest of his cousins, plays the role of the protector. When speaking about her nephew, Kardashian claimed that, "Mason bosses them around and is super protective."
Judging by the way Saint was all over Dream in this latest Instagram post, I'm sure he'll follow in the footsteps of his cousin. I just wonder — with all these recent additions to the family — who's gonna be BFFs with who. And most importantly, I'm wondering when we'll get another adorable snap of the family's little clique. Actually, BRB, I'm gonna go turn on my push notifications so I don't miss anything.