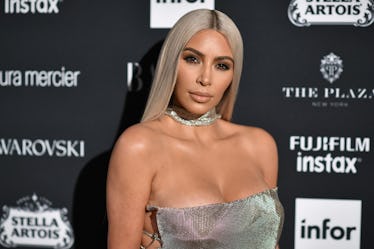 Kim Kardashian Shared A Pic Of Her Very First Birthday Cake & It's SO Kim
Dimitrios Kambouris/Getty Images Entertainment/Getty Images
Kim Kardashian was super-trendy from day one, you guys, and now we have the pic to prove it. The Keeping Up With The Kardashians star took to her Instagram feed on Feb. 7 to share a bunch of cute throwback images. "Hey, guys, I'm organizing my photo albums," she says in a voiceover. And like, only Kim would be doing something so mundane in the middle of launching a fragrance and, you know, welcoming a new baby into the family. But I'm really glad she did, because Kim Kardashian's first birthday cake is major in every way — and I am SO here for it!
The cake is from Hansen's bakery in Beverly Hills and Los Angeles — which I had never even heard of before I started watching KUWTK, despite the fact that it's been around for almost a century. The cakes have been featured on the show so many times over the years that they should pretty much be credited cast members at this point. But I'll get to that in a minute. For now, I want to just focus on Kim's very first Hansen's creation, because it's just SO Kim and basically amazing in every way. The rectangular sheet cake was covered in white buttercream then iced in pink and purple, and — get this — it featured a big picture of a unicorn on the front, proving once and for all that every single trend — even ones involving legendary mythical creatures — really does start with a Kardashian.
"Look, my first birthday cake was a Hansen's unicorn cake," Kim says in a voiceover. And like, were unicorns even a thing 36 years ago? Because they are currently having themselves a moment big time. But, of course, Kim Kardashian did it first —  or at least Kris Jenner did, because let's be honest, she's prob the one who designed this sucker in the first place. I just hope no one decided to smash the creation in the future momager's face, the way Kim and Khloé did on the Dec. 10 episode of Keeping Up with the Kardashians.
Here's how it all went down: After Kris tricked both girls into competing to be her favorite child — sorry, guys, but my bet for the win will always be on King Kylie — Kim and Khloé decided to get their revenge by presenting their mom with her favorite basket cake from Hansen's. Then they ceremoniously smashed the thing over her head.
Watch:
So epic. I kind of want to do this to my mom. But I also think she would totally make me clean that whole mess up afterwards so I'm gonna go ahead and take a hard pass. And while I love seeing Kris with a face full of icing, the best part of the episode hands down is getting to see Kim and Khloé eat the smushed dessert off the floor at the end, kinda like that time Rachel and Joey devoured a cheesecake in the hallway.
Even after the whole debacle took place, Kris couldn't help but turn to her fave bakery to craft a stunning pink rose design to celebrate the birth of Kim's new baby, Chicago West.
I mean, how good does that thing look? Although, TBH, it does look super similar to the one Hansen's made for Rob Kardashian and Blac Chyna's daughter, Dream:
And to the one Kylie got for her 18th birthday:
But this thing is so stunning, I kind of don't blame the family for the repeat performance. I mean, why mess with perfection, right? Of course, things got much more edgy a few year later when the lip kit mogul turned 20. She celebrated the big birthday with a cake from Hansen's designed to look like her infamous logo.
So cool! Still, I'll always be partial to the sweet mermaid cakes Hansen's crafted to celebrate Penelope turning four and North turning three:
Oh, and if you want a unicorn cake from Hansen's now, check out how far they've come:
I don't know who Shi'lah is, but I sure hope she's willing to spare a slice!