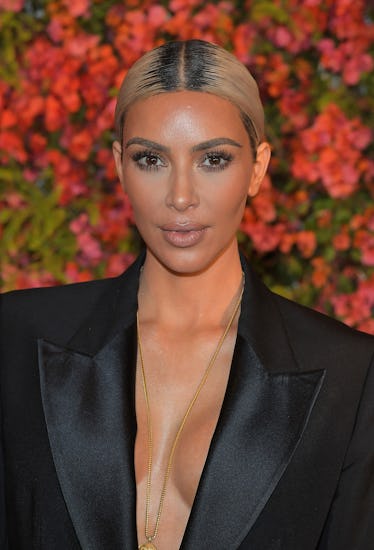 Kim K Shared 12 Gifts To Get Your Partner For Valentine's Day & They're So, So Good
Charley Gallay/Getty Images Entertainment/Getty Images
I've spent the last week being super-jealous of anyone on Kim Kardashian's Valentine's Day list. The KKW beauty queen spent last week sharing the amazing press boxes for her new Kimoji line of fragrances, and let me just say, these things are straight fire. Each one contains a giant chocolate heart that recipients must bust open with a little wooden mallet to reveal the scent inside. So cool, right? Sadly, they're only for press. And the regular emoji heart bottles on her website are all sold out. But at least we still have Kim Kardashian's Valentine's Day gift list, right?
Because despite the fact that the mom of three is currently in the middle of launching her new fragrance line, Kim has also been busy rounding-up a bunch of other gift options for us all on her app. Thanks, Keeks! And while the list is not super-long, it's honestly pretty great. There are candles, chocolates, robes, and much more for all the loved ones in your life, so you don't have to feel too bad if, like me, you failed to cop a heart emoji scent.
"Valentine's Day is one of my favorite holidays," she explains. "It's the perfect excuse to treat the ones you love (or yourself!) to something special."
Keys words here: Or yourself.
Kim has helpfully divided her list into two categories — "For her," and "For him." In the former category, Kim suggests things like a Diptique rose candle from Barneys, a Venus et Fleur small round box of roses, ruby earrings from The Last Line, cozy Mayberry slippers by Emu Australia, a cool Staud crushed velvet bag, and a silky Journelle Coco robe. There's even a chocolate heart gift box on there, though alas, it's not one of her own.
Still want it, though.
When it comes to the guys, something tells me Kanye may have had a hand in the selections, because the items — which range from an adidas Trefoil knit beanie to and $800 glass speaker from Sony — are all pretty dope.
TBH, I never even heard of these speakers before today, but now I totally want one. Anyway, the rest of the "guys" list includes a pair of B&O Beoplay H4 Wireless Headphones, a Ratio Eight furturistic-looking coffee maker, and a Mr. Porter Lavin velvet tie.
I gotta tell you — that coffee maker looks pretty awesome, too. I guess it better be for $595. But I'd much rather score that thing for V-Day than those ruby huggie-style earring on the "for her" list. Maybe that's me, though. I'm a big hoops girl. Either way, while both Wests are obviously pretty good at picking out gifts, I gotta give Kanye the upper hand. Remember that time back in 2016 when he surprised Kim on Mother's Day by gifting her with a flower bench, and then waking her up with, you know, a live, all-female, 12-piece orchestra singing tunes from Annie and Frozen in the couple's foyer?
Beyond epic! Yeezy really pulled out all the stops here — I mean, go big or go home, right? And last year he did it again! While Kim was on a business trip in Brazil, her husband blew up her hotel room with thousands of white roses, then later surprised her at dinner with a table-side serenade from a string quartet playing Sam Smith.
If I had a dime for every time that happened to me.... Seriously though, these two are total #GOALS when it comes to gifting each other. But even though I'm totally obsessed with Kim's perfume press boxes and her V-day selections here are completely on-point, I'm gonna go ahead and say Kanye is the one who actually gives the best gifts of all time. Sorry, Keeks — but since you get to be on the receiving end of his awesome selections, it looks like you're both winners here!