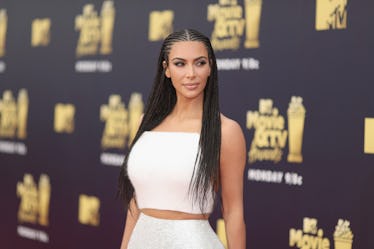 Kim Kardashian Got So Emotional For Father's Day & BRB I'm Crying
Christopher Polk/Getty Images Entertainment/Getty Images
Father's Day is a time to show your dad how much you love him and how appreciative you are to have him in your life, and celebs are not exempt from that. Thanks to social media, fans get a close-up look at heartfelt messages A-listers have for their dads, and I dig it. Kim Kardashian's Father's Day messages have me feeling super emotional, and I'm not ashamed.
A lot of what I do these days involves scouring the Kardashian/Jenner social feeds for more baby pics or shots of epic birthday parties. But on sentimental holidays like Father's Day, I give up my hunt for more news that'll make me jealous to find something sweeter, and boy did I find it in Kardashian's Father's Day message to her dad, Robert Kardashian.
The night before Father's Day, June 16, Kardashian posted a throwback photo of herself and her late father. It's an adorable picture of a young Kardashian and her dad, but the caption is what really got me reaching for the tissues. Robert passed away back in 2003, and Kardashian's post was about how he was on her mind, and how much she misses him. It read,
I know I'm posting this early but you're so heavy on my mind tonight. Happy Father's Day to the best dad in the world. I miss you so much dad.
When people get older and become parents, you sometimes forget that they are children too. Kardashian is now a mother of three, but she's still Daddy's little girl, even if he's no longer with her. So it was kind of nice that Kardashian took the time out to remember her own dad before posting about the father to her children, Kanye West... which she also did.
On the morning of June 17, Kardashian posted a pic to her Instagram from North West's unicorn-themed birthday party. In the photo, North is on Kanye's shoulder's (you know, as if she's just a normal little girl and not the daughter of mega celebs). In the caption Kardashian thanks Kanye for being a great father and gives a little shoutout to all the other dads out there. She wrote,
Happy Father's Day babe. Thanks for being such a good dad to our babies! Shout out to all of the amazing dads out there!
Both of Kardashian's Father's Day posts got me super emotional because her dad has been gone for a while, but now she gets to watch her children with their father. I don't know, it's just all too sweet. Tell me if I'm wrong, but out of all the celebrities, Kardashian always has the most heartfelt Instagram posts about her family.
Before Father's Day, on North's fifth birthday on June 15, Kardashian posted a birthday message for her daughter that also made me feel some kind of way. She posted a photo of herself and North (also at North's birthday, because there will never be enough shared photos of this unicorn bash), and the caption was all about how her daughter is her best friend and she's so honored to have her. I need to stop now because I'm gonna tear up again and I'm out of tissues. Kardashian wrote,
My baby girl turns 5 today. Never did I think back then that I would have my best friend for life! I'm so honored to be your mom Northie! You have brought more joy into my world than I ever could have imagined. I can't believe your so big now! The luckiest girl in the world to be best friends with your cousins and have the most magical parties together! I love you so much birthday girl! P.S. Now that you're 5, don't you think it's the mature thing to try to be nice to your brother now!?!
What more could you want? It's got love, it's got heart, it's got a little joke. It's perfect. Now I'm just trying to think of the next holiday Kardashian might have a reason to post for so I can feel again.