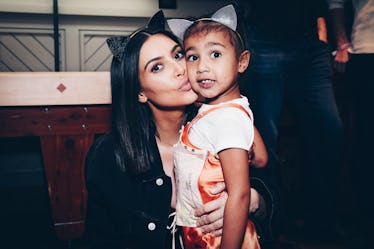 Kim Kardashian Posted The Sweetest Tribute To North West For Her Birthday
Handout/Getty Images Entertainment/Getty Images
Time to break out the birthday candles. Kim Kardashian and Kanye West officially have a 5-year-old, and the reality TV maven is just as shook as the rest of us. Oh, how time flies when you're ruling Hollywood. Before welcoming Saint West in 2016, and recent addition Chicago, via surrogate earlier this year, KKW gave birth to the couple's first child on June 15, 2013. While in New York celebrating 'Ye's latest album release, Kardashian-West took a break from the festivities to honor her daughter's birthday milestone (she is half a decade, after all). Taking to Instagram for the special shoutout, Kim Kardashian's birthday post for North West proves the pair share's a special mother-daughter bond.
"My baby girl turns 5 today. Never did I think back then that I would have my best friend for life!" she began the sweet message. "I'm so honored to be your mom Northie! You have brought more joy into my world than I ever could have imagined. I can't believe your so big now! The luckiest girl in the world to be best friends with your cousins and have the most magical parties together! I love you so much birthday girl! P.S. Now that you're 5, don't you think it's the mature thing to try to be nice to your brother now!?!"
According to Us Weekly, the new 5-year-old visited the Tiffany's Blue Box Café in NYC Friday alongside Auntie Kourtney and cousin Penelope Disick. Kardashian-West's mini-me sported a hot pink athleisure getup and high pony. "North serving LOOKS on her 5th birthday!!!!!" Kim captioned the shot, before outing her eldest on Twitter for a lack of sisterly love. "Now that you're 5, don't you think it's the mature thing to try to be nice to your brother!?!" West asked.
The news of Kim's first pregnancy came in 2012 during her then-boyfriend's Atlantic City concert. Reportedly unbeknownst to Kardashian, West chose to drop the baby bombshell mid-show, insisting, "Stop the music for a second. Can we make some noise for my baby mama?" At 12 weeks, Kim confirmed the news on her official site.
It's true!! Kanye [West] and I are expecting a baby. We feel so blessed and lucky and wish that in addition to both of our families, his mom and my dad could be here to celebrate this special time with us. Looking forward to great new beginnings in 2013 and to starting a family. Happy New Year!!! Xo
Although still legally married to former husband Kris Humphries (they infamously split after 72 days), Kardashian and West took their longtime friendship to the next level. The pair stepped out publicly in March 2012, less than a year prior to the pregnancy reveal. Kim and Kanye welcomed their first daughter, North "Northie" West, in summer 2013. And the rest, as they say, is recounted on Keeping Up With The Kardashians.
Mama West wasn't the only family member to jump on social media in honor of North's big day. Kardashian/Jenner Matriarch and momager extroardinaire, Kris Jenner, took to her own Instagram account.
Happy birthday to our sweet angel North!! I can't believe you are 5 today," her "lovey" gushed. "I love you so much, you are the greatest blessing, and it brings me so much joy to watch you grow into such a beautiful, fun-loving, spirited, kind, smart and funny little lady!"
While I hardly doubt the budding style icon's bday festivities are anywhere near over (in case you needed a reminder, this family does everything big), North already celebrated alongside cousin and BFF Penelope Disick, 6, on June 2. According to People, the joint unicorn-themed bash included doughnuts, matching unicorn cakes, and rice crispy pops with little unicorn horns and ears. The duo also sported matching rainbow robes and bathing suits for the party.
Here's hoping I get an invite to next year's blowout!