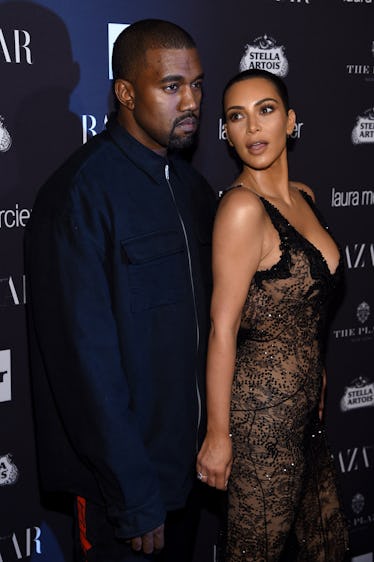 Kim K Just Revealed The One Thing She Would Change About Kanye West
Dimitrios Kambouris/Getty Images Entertainment/Getty Images
Listen, I bet it's not easy being married to Kanye West for a lot of reasons. Things like his controversial political opinions and his truly stratospheric fame probably require a partner with a certain threshold for stuff, and of course, that person is Kim Kardashian West. While there's no denying these two are absolutely made for each other, like every couple, they have their disagreements. For example, Kim can think of one thing she'd like to tweak about her hubby. Kim Kardashian's comments about what she'd change about Kanye West are surprising given all the extraordinary circumstances surrounding their marriage. But also, it kinda makes sense. Ready for it...?
Kim Kardashian wishes Kanye West wouldn't fall asleep at inappropriate times. Bet ya didn't see that one coming! (But, now that you've heard it, you're probably sure it's true, right? Same.)
Kardashian talked about West's sleeping habits before. In 2017 during an appearance on The Late Late Show with James Corden, Kardashian revealed West has a habit of dozing off during important meetings or dinners, including a parent-teacher conference. It's now a whole year later and it seems like West still hasn't gotten his random snoozing under control.
On Monday, Oct. 2, Kardashian appeared on supermodel Ashley Graham's new podcast, Pretty Big Deal. During their conversation, she called West's sleeping drama his "worst habit." She told Graham, "I would say Kanye is definitely a little bit narcoleptic. He falls asleep, like, everywhere." Based on Kardashian's story, it sounds like even high stakes or industry pressure aren't enough to keep the "I Love It" rapper awake if he needs to catch his Zzzs.
Kardashian explained, "My first fashion dinner when he was introducing us to people, they hardly spoke English and we were in France and he falls asleep at the dinner table in a restaurant."
Geez. Thanks for nothing, Ye.
Apparently, Kanye has some things he's not thrilled with, too. Kim revealed she curses too much, at least for her husband's taste. "He'd prefer me not to curse," she said. "I do curse a lot." In another plot twist, Kardashian also thinks her husband would prefer if she sent him more sexy photos.
"He would probably like it if I sent him sexy pictures more often," she said. "Yeah, I gotta get with it." (Kanye, do you happen to follow Kim on Instagram?)
If I'm being fair, it's semi-refreshing to hear these are West and Kardashian's biggest gripes with each other. The staggering pressure they face from their fans and the press on a day-to-day basis definitely requires thick skin. Both Kardashian and West have been in the news lately for their political involvement and agendas, all while West is busy releasing new album after new album and Season 15 of Keeping Up With The Kardashians sizzles on TV.
Oh yeah, they also have a newborn at home, two new nieces, one family cheating scandal, many new consumer products, and the usual photo shoots, interviews, PR management, and responsibilities of your average celebrity.
I hate to say it, but I'd be tired if I was Kanye West, too.