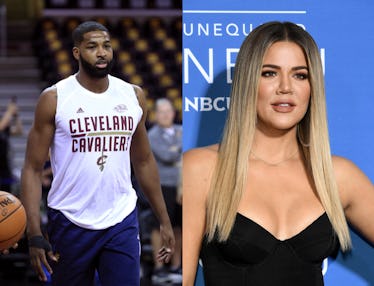 Khloe & Tristan's Body Language Post-Cheating Rumors Reveals Something Unexpected
Getty Images
For those of you who aren't quite "keeping up" with the Kardashians, let me give you a little bit of a refresher. Khloé Kardashian started dating Cleveland Cavaliers player Tristan Thompson in 2016 and announced her pregnancy in 2017. Shortly before the birth of their daughter True in April 2018, photos online appeared to depict Thompson at a club with another woman. Now, in a series of Instagram Stories posted on Tuesday, Sept. 4, we see that Khloé Kardashian and Tristan Thompson's body language after cheating rumors shows their relationship may have never really gone back to normal. (Elite Daily has reached out to reps for both Kardashian and Thompson for comment.)
Kardashian posted a picture and a video of herself and Thompson on her Instagram Story and Elite Daily asked two body language experts to examine them. In both posts, Traci Brown, body language expert and author of Persuasion Point, notices a disconnect between Kardashian and Thompson.
"The most interesting thing about these shots is that when they're hugging, she's drawing him really close, arm all the way around him and hand on his chest — that shows ownership," she says. "So, she doesn't want to let him go. We can't see what he's doing with his arm that's not holding the camera but he's not holding her in the same way. [He's] almost leaning back a bit, [as if he's] more focused on what other people think of him."
Patti Wood, body language expert and author of SNAP: Making the Most of First Impressions, Body Language, and Charisma, chose to focus, specifically on the first image.
While Brown primarily took concern with Thompson's body language in the images, Wood believes Kardashian's behavior is also worth noting. "Her body language is interesting because it's all tentative," she says. "If you look at her hand around him, it's not pulled in tight. The fingers aren't together." In particular, she points to the fact that Kardashian's fingers are flat and long rather than curved around. She also notes that her hand on his chest is flat as well. "It's not pressing in, it's not curved around, it's not tender with the fingertips curving," she explains.
Next, she draws our attention towards Kardashian's cheek. While you normally would see someone's cheek and chin tilted into their lover's chest, Kardashian's head is leaning away. Through her hands, her cheek and her chin, Wood believes Kardashian is telling us with her body, "I want to be showing I'm connected to him in the photo, but I'm not really sure I want to be connected to him." Usually she would assume that Kardashian's hat and sunglasses were getting in the way of her properly leaning into her lover's chest. But, in this case, the fact that her hands are also looking aloof, which indicates that it's not just her accessories getting in the way.
On the other hand, Wood believes Thompson is offering a sincere smile and elongating his neck, indicating that he's proud to be with his partner.
In the video that Kardashian posted following the image, Brown believes both Thompson and Kardashian are focusing their attention on the camera, rather than on each other. He's "not really wanting to be connected to her, or put his attention on her, but rather the camera. But she's still got her arm on him or is making a pouty face focused on the camera, too."
All in all, based on their body language in these images, Brown concludes, "My estimation is that they won't last too long."
Obviously, we can't totally determine the fate of this couple based on these two quick posts. At the end of the day, I just hope they do whatever is right for them. If they're happy, I'm happy.